Elpis Battle – All you need to know about EBA token
What is Elpis Battle?
Elpis Battle is a tactical turn-based RPG, Play-to-Earn game built on BNB Smart Chain. Players contribute to this fantasy game ecosystem through many ways, earn and trade the rewards.
How does Elpis Battle work?
Elpis have many classes, each NFT will take on a different combat role (defense, attack,…), including:
Human: This NFT is intelligent, quick-learning, adapts well to new environments, and has a well-defined plan.
Elf: A race that inhabits the natural world, has tiny, agile bodie and is extremely skilled at defending its territory by battling intruders.
Naga: A race that is half human and half snake. Along with being able to fight, this character's seductive voice and attractive looks will distract the adversary during combat.
Orc: The tall and strong build of the race reflects the character. They are tough warriors that can battle in a variety of difficult situations because of their huge looks.
Angel: The symbol of light and life. Angel has the smallest population among races and represents creativity and vitality in the group.
Dwarf: The continent will be the Dwarf's primary domain. They spend the whole year in the cliffs and underground where it snows heavily.
Upgrade System: Players can upgrade their NFTs by training them (Heroes, Pets, Items, and Skills).
Trading System: Elpis Battle players can utilize the trading system. Any NFTs they hold can be freely traded there or on other marketplaces.
Multiplayer System: The Elpis Battle gaming system provides a variety of game modes, such as PvP, Rental Heroes, and Adventure. 
EBA Token Use Cases
EBA is a native token of Elpis Battle which can be used to activate functions in this game:
Yield Farming: EBA token is an incentive for early supporters of the Elpis Battle ecosystem.
Governance: Users who hold EBA tokens can vote for the development direction of Elpis Battle
Staking: Users who hold EBA tokens can receive rewards from the revenue of Elpis Battle.
Team, Investors, and Partners
Team
Quang Nguyen – VCC Exchange's former CEO.
Thang Nguyen – CTO, also the blockchain lead of Bunicorn and VCC Exchange.
Tien Chu – CGO of Zego Studio – Top 3 Game Studio in Southeast Asia & Top 20 Global Game Studio.
Quynh Bui – CCO of Mytel Wallet.
Hoan Ngo – Head of Marketing.
Investors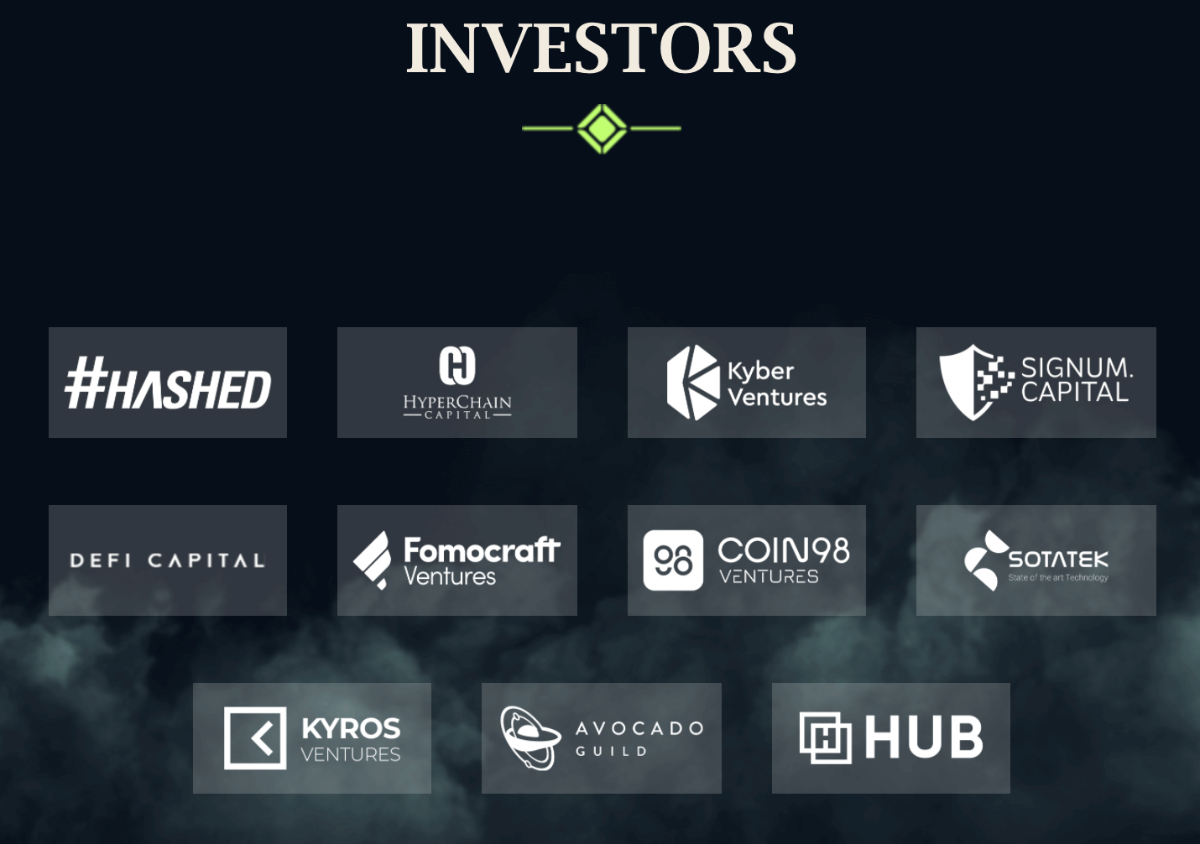 Partners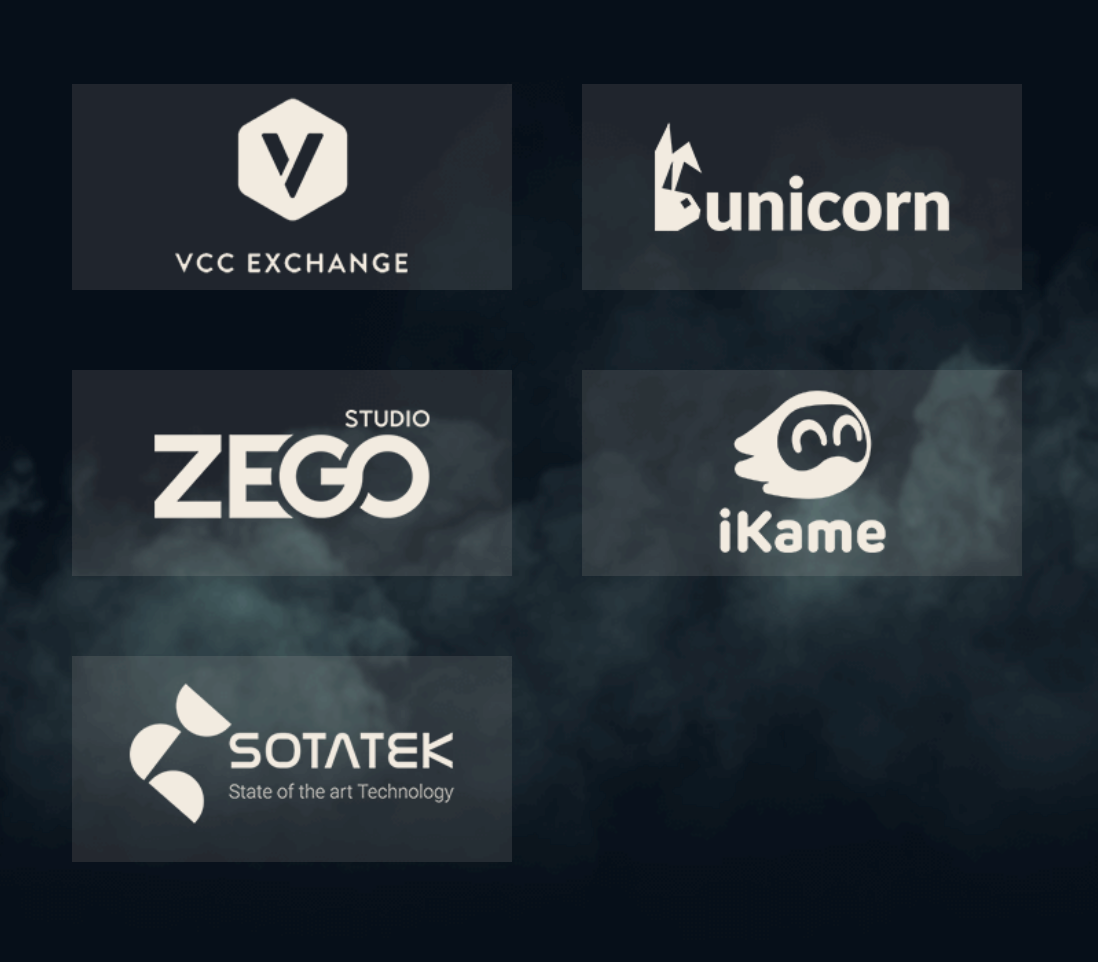 Roadmap & Updates
Q1/2022
Game Release.
Buy-back $MEG Program
MEG Liquidity Pools
Scholarship Function 
NFT Equipment Fair-Launch
Q2/2022
Governance 
Battle v2 mechanism
Equipment Feature
Raid Boss Event
Dungeon v2 Event
Q3/2022
PvP Mode Phase 1
PvP Mode Phase 2
Guild Manager Tool
Data Dashboard
Q4/2022
Mobile Version
Social in-game: Profile, Leaderboard, Chat boxes
Skill Book
MEG Stabilize Mechanism
Pet Feature
What is EBA Token?
EBA is Elpis Battle's native token used for decentralized governance and many functions in the game.
Detailed information about the EBA Token
EBA Key Metrics
Token Name: Elpis Battle Token.
Ticker: EBA.
Blockchain: BNB Smart Chain.
Token Standard: BEP20.
Contract: 0x3944ac66b9b9b40a6474022d6962b6caa001b5e3
Token Type: Utility, Governance.
Total Supply: 1,000,000,000
Circulating Supply: 22,172,718
EBA Token Allocation
Game Incentives: 20%
Foundation: 15%
Operation Reserve: 15%
Staking Rewards: 15%
Token Sale: 15%, including:

Private Sale: 12%
Seed Sale: 2%
Public Sale: 1%

Team & Advisors: 10%
Marketing & Liquidity: 10%, including: 

Marketing: 8%
Liquidity: 2%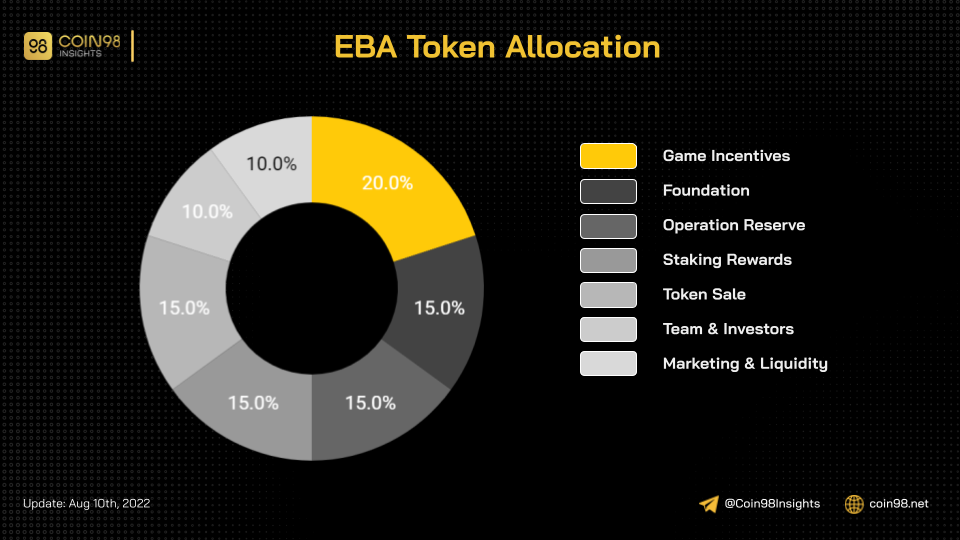 EBA Token Sale
Updating…
EBA Token Release Schedule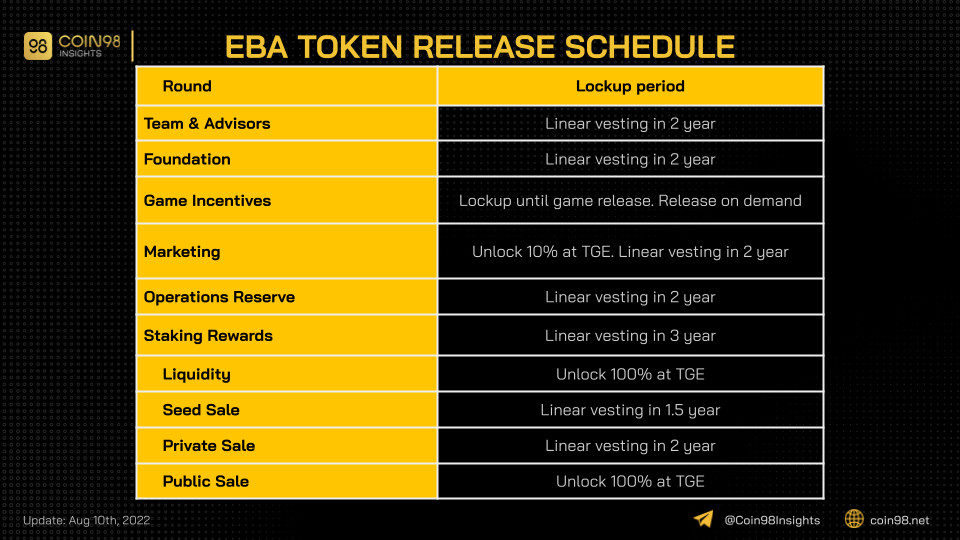 How to get EBA Tokens
Users can get EBA Tokens by:  
Staking: Stake EBA to earn EBA token rewards.
Play to Earn: Complete in-game missions to get EBA tokens.
Buy EBA on DEXs.
How to store EBA Token
You can store EBA tokens on the Coin98 Super App with these steps: 
Step 1: Open the Coin98 Super App & click Receive on the home screen. 
Step 2: Search EBA token. 
Step 3: Click on the correct result, copy the wallet address and send EBA to this address.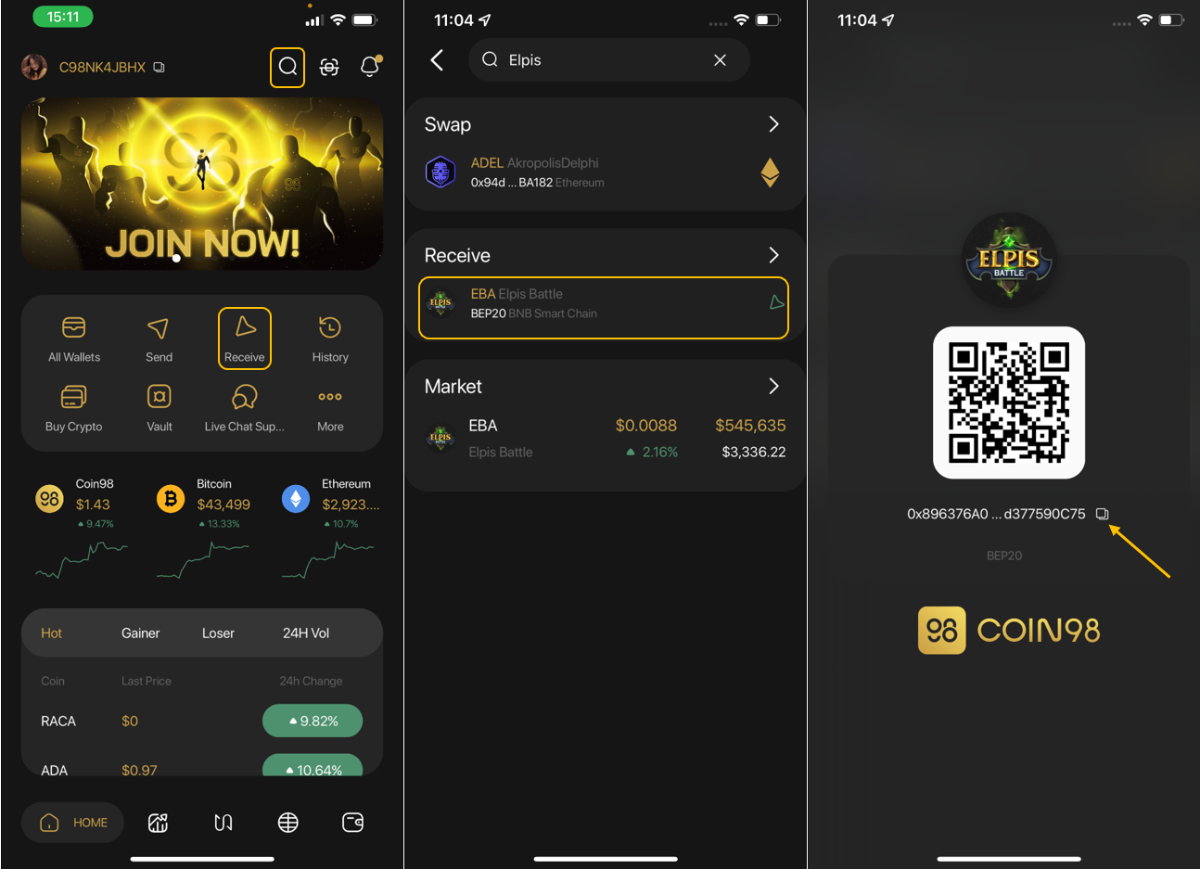 How to buy EBA tokens
You can buy EBA on DEXs like Baryon Network, PancakeSwap, KyberSwap…
Similar projects
Axie Infinity (AXIE): Axie Infinity is a blockchain-based game built on Ethereum. In the game, each player owns their unique fantasy creatures known as Axie to take part in different activities: battling, breeding, trading on the marketplace. 
CryptoBlades (SKILL): A Play to Earn NFT RPG developed by Riveted Games on BNB Smart Chain. Players can combat using their assets to earn SKILL tokens. Assets are player-owned NFTs minted in the ERC-721 standard which may be traded on the NFT marketplace.
Learn more: 
What is Elongate (EG)? All about EG Token
Last, Atccoin.net sent you details about the topic "Elpis Battle – All you need to know about EBA token❤️️".Hope with useful information that the article "Elpis Battle – All you need to know about EBA token" It will help readers to be more interested in "Elpis Battle – All you need to know about EBA token [ ❤️️❤️️ ]".
Posts "Elpis Battle – All you need to know about EBA token" posted by on 2023-09-30 03:56:48. Thank you for reading the article at www.atccoin.net