What Are DeGods & DeadGods? All About DUST Token
NFT is a vital component of today's evolving blockchain-based digital economy and has been evaluated in a range of industries such as gaming, digital identity, licensing certification, and artwork. It is used to demonstrate ownership or tokenize works of art by artists and game developers, and so on, due to its characteristics.
What is DeGods?
DeGods is an NFT project fully built on Solana. DeGods offers a range of deflationary collections, including degenerates, punks, and misfits. They consider themselves Gods of the metaverse and masters of their own universe. There are less than 10,000 DeGods NFTs available on the market. 
DeGods have integrated with Dust Protocol in order to use DUST tokens across its entire ecosystem.
How does DeGods work?
DeGods NFTs
DeGods NFTs can be verified and allows its holders to gain access to the DeDAO community and become visible on DeMap. It can also be staked to mint 5 DUST tokens per day, regardless of rarity.
Users can burn DeGods NFTs to earn DUST tokens. Rare DeGods NFTs will obtain more DUST tokens than common ones. The amount of minted DUST tokens is calculated as the following formula: 
DUST token Quantity = 1000 + (number of Remaining DeGods NFT – Rarity Ranking)
Only one DeGod NFT can be burned per day. DeGods NFTs holders need to submit their NFTs to a queue (non-reversible) if they want to burn their NFTs. At the end of each day, the most common DeGod will be burned, and the holder will receive DUST tokens. 
DeadGods NFTs
DeadGods NFTs are the mutated forms of DeGods NFTs. It is created by transcending DeGods NFTs using DUST tokens. If users are staking their DeGods NFTs, they can mutate their DeGods NFTs on the staking site without unstaking it. The original DeGod rarities will stay intact as the metadata remains the same.
DeGods NFTs and DeadGods NFTs are switchable at any time, with an undecided amount of DUST tokens per switch. Each DeadGods NFT can mint 15 DUST tokens per day.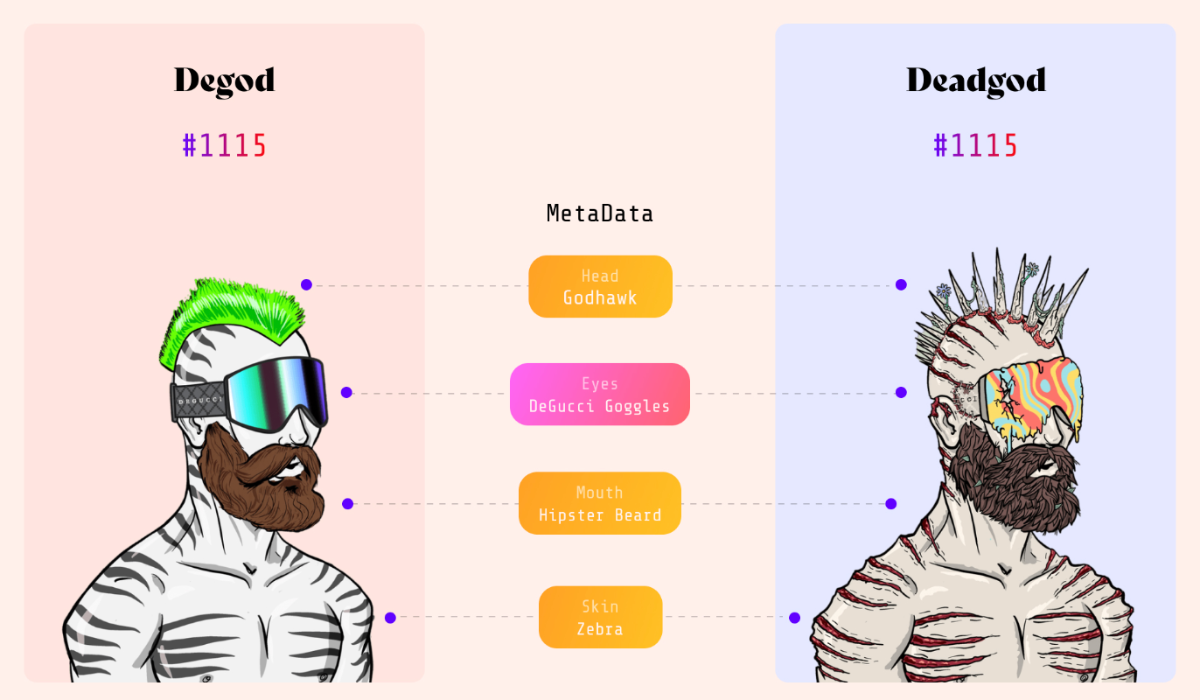 At first, it took 1,000 DUST tokens to transcend a DeGod NFT to a DeadGod NFT. But starting on April 7th, the cost of upgrading to a DeadGod NFT will increase by 3.33 DUST tokens every day and after the first halving, the cost will increase by 1.66 DUST tokens every day. 
Exiled DeGods NFTs
Exiled DeGods NFTs are misprinted DeGods NFTs. There are 2,500 exiled DeGods NFTs on the market, and they are not tradable. 
There will be one exiled DeGod NFT that can be burned per day. A random exiled will be selected for burning and the submitter will get 333 DUST tokens.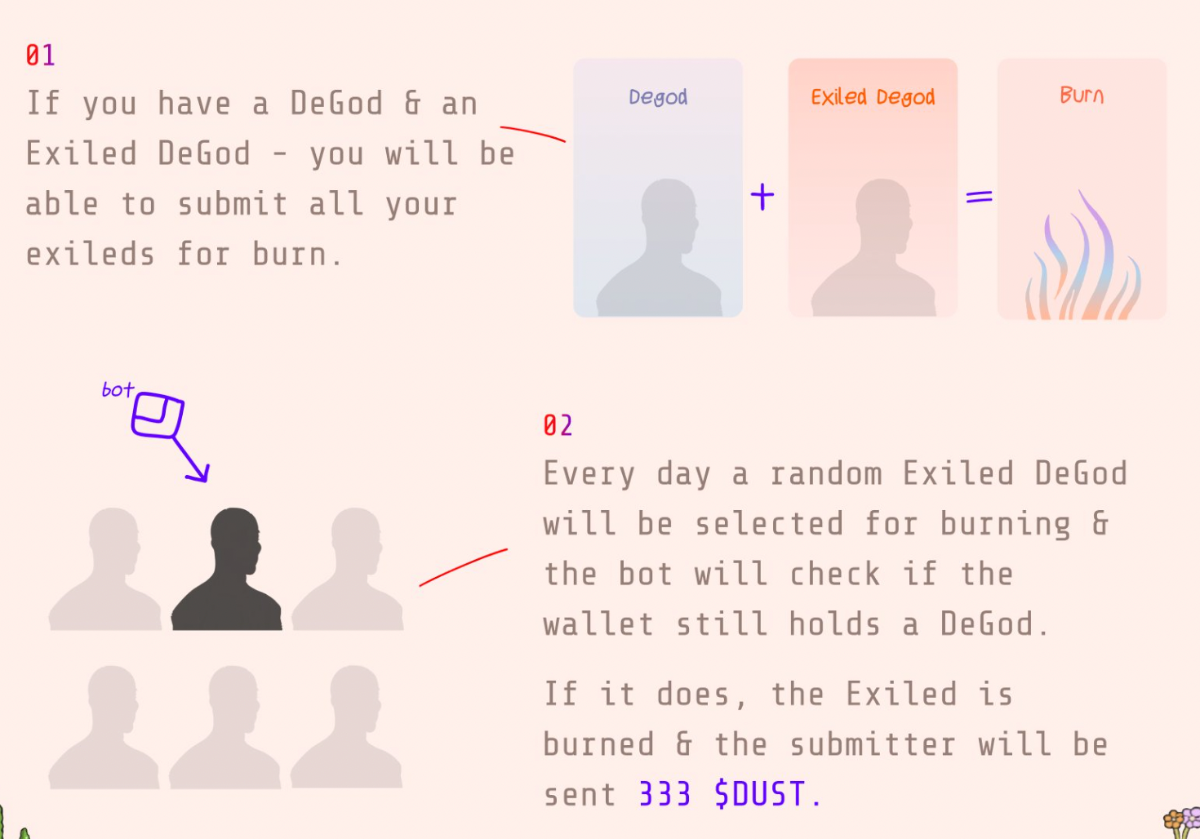 In April 2022, DeGods DAO purchased a Big3 basketball team, the Killer 3s, for around $625,000. In particular, the DAO bought 25 "fire-tier" NFTs to gain a stake in Killer 3s. (Big3 is a 3-on-3 basketball league founded by Ice Cube and Jeff Kwatinetz). With this, DeGods will receive rights and deliverables of high actual value and utility in five areas: Ticketing, Merchandise, Experience & Activations, Direct Communication, and Voting Rights. 
DeGods is currently working on launching its second NFT collection known as Duppies. Duppies NFTs can only be minted with DUST tokens. A guaranteed spot for minting upon launch is a bonus for DeGods NFTs holders. Users that are interested can participate in raffles or auctions of Duppies on the DeGods Store.
DeGods Token Use Cases
DeGods do not have their own token. They integrated with Dust Protocol to use DUST tokens in their ecosystem.
DUST tokens can be used to:
Win top-tier NFTs every day.
Purchase NFTs in the DeDAO treasury.
Used in DeadGods mutation, auctions, raffles, P2E & PVP games, and betting platforms (TBA). 
Sent to the DeDAO treasury to maintain a healthy supply of circulating DUST tokens for economic activities and utility development. 
In the future, there will be a new NFT collection only mintable using DUST. The DUST token is not an investment and has no economic value. The price of the DUST is established by the free market.

Team, Investors, and Partners
Updating…
Roadmaps & Updates
DeGods roadmap is still in process. Coin98 Insights will update as soon as the project released information.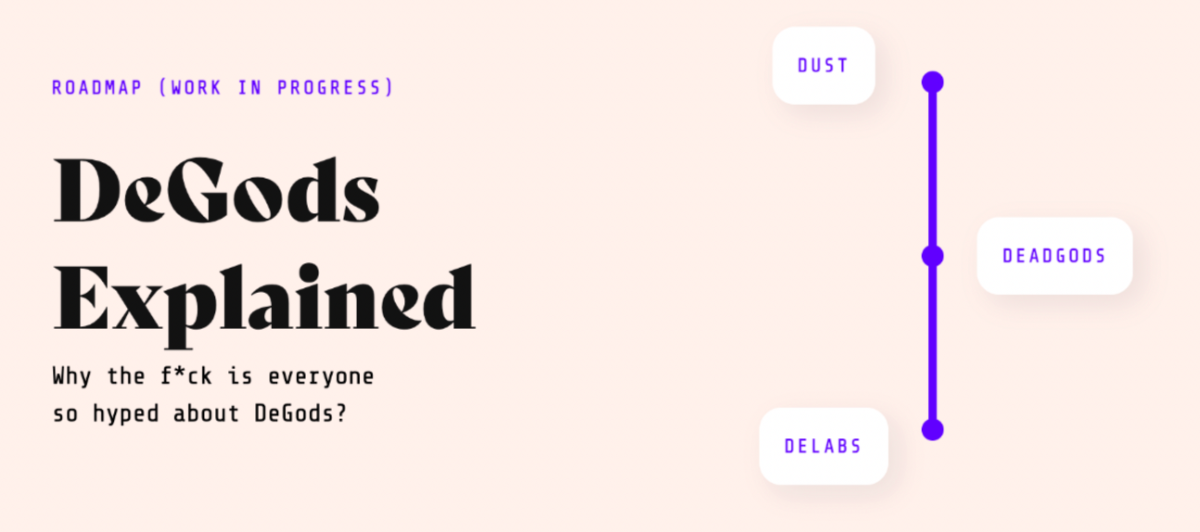 Detailed information about DeGods Token (DUST)
DUST Key Metrics 
Token Name: DeGods
Ticker: DUST
Blockchain: Solana
Token Standard: SPL
Contract: DUSTawucrTsGU8hcqRdHDCbuYhCPADMLM2VcCb8VnFnQ
Token type: Utility, Governance
Total Supply: 33,300,000 DUST
Circulating Supply: Updating…
DUST Token Allocation and Token Sale 
DeGods (DUST) has no IDO, no VC allocation, and no price impact (up/down). Simply, this is a project that helps NFT holders make more profits in the market.
How to get DeGods NFTs and DUST tokens
How to get DeGods NFTs and DeadGods NFT: 
Buy on supported NFT Marketplaces (find below).
Transcend DeGods NFTs to DeadGods NFTs. 
How to get DUST Tokens: 
Stake DeGods NFTs or DeadGods NFTs.
Burn DeGods NFTs, DeadGods NFTs, or exiled DeGods NFTs.
Purchase DUST tokens on supported exchanges (find below).
How to store DeGods NFTs and DUST Tokens
DeGods and DeadGods are NFTs, you can store them on NFT Marketplaces or on the DeGods platform.
You can store the DUST tokens on Coin98 Super App with these steps: 
Step 1: Open Coin98 Super App & click Receive on the home screen. 
Step 2: Search DUST Token. 
Step 3: Click on the correct result, copy the wallet address, and send DUST to this address.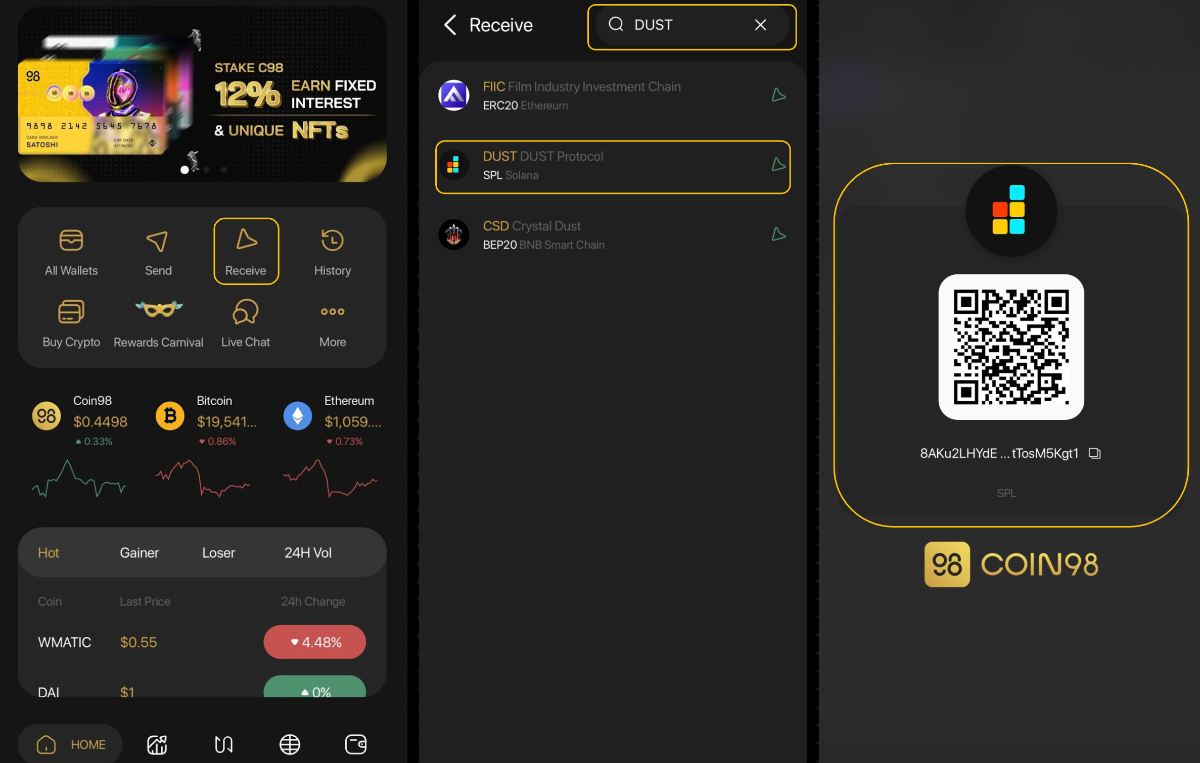 How to buy DeGods NFTs and DUST Tokens
You can buy DeGods NFTs and DeadGods NFTs on NFT Marketplace such as Magic Eden, Alpha Art, Solanart, and Opensea. 
You can buy DUST tokens on Jupiter, Crypto.com…
Learn more: How to use Opensea
Similar Projects
StepN: The project allows users to equip their NFT and convert their moving energy into the game currency, which can either be used in-game or cashed out for profit.
Conclusion
DeGods offers an exclusive feature to its users, allowing them to transcend their DeGods NFTs into DeadGods NFTs. DeGods NFTs allow users to earn more DUST tokens by staking or burning their NFTs. The price of the DUST is established by the free market and not by any parties, which makes it completely decentralized and independent.
Last, Atccoin.net sent you details about the topic "What Are DeGods & DeadGods? All About DUST Token❤️️".Hope with useful information that the article "What Are DeGods & DeadGods? All About DUST Token" It will help readers to be more interested in "What Are DeGods & DeadGods? All About DUST Token [ ❤️️❤️️ ]".
Posts "What Are DeGods & DeadGods? All About DUST Token" posted by on 2023-10-01 20:14:07. Thank you for reading the article at www.atccoin.net