What Is Blockchain Explorer? How To Read Blockchain's Transactions
If you're learning about Blockchains, you might have heard about "Blockchain Explorer". This article will go through all you need to know about Blockchain Explorers and their basic use cases.
What is Blockchain Explorer?
Blockchain Explorer (or Block Explorer) is a software program that reorganizes raw data collected from nodes on a Blockchain, turning it into understandable information displayed through API.
API stands for Application Programming Interface. It is an intermediary window that allows softwares, applications or systems to interact with one another.
There are numerous Blockchain Explorers in the market, and each blockchain can have one or multiple explorers. The most popular of which are Etherscan (Ethereum), BSCscan (BSC), Polygonscan (Polygon), etc.
Blockchain Explorer plays a crucial role in the decentralization and transparency of the cryptocurrency world. Providing the display ability of all transaction data is one of the main differences between cryptocurrency and traditional currency.
In this article, I will take Etherscan as an example of how to use Blockchain Explorer.
Learn more: How to use Etherscan
What are Blockchain Explorers used for?
Blockchain Explorers can be considered Google for cryptocurrency and public blockchains. They allow users to access basic transaction information of different wallet addresses on different blockchains, including the amount, the sender, the recipient and the status of the transaction.
Normally, Blockchain Explorers have the same interface, features, and use cases. Their 3 main use cases include:
Checking the general information of the Blockchain and the market
When accessing the home page of a Block Explorer, you can find the general information about its blockchain & the market data, such as:
Price of the native token.
Market Cap.
Blockchain stats.
And other information.
Some Block Explorers provide other stats, including deeper insights of the Market data, Network data, etc.
Accessing the latest blocks and transactions
Usually, the home page of a Block Explorer provides the latest blocks and transactions on its blockchain. Users can access each block to view the transaction orders, or the detailed information of the latest transactions.
On Etherscan, you can view the general information about 6 latest blocks and 6 latest transactions on Ethereum. To see more, click "View all".
To check the detailed information about blocks and transactions, click the block or the transaction directly and the Block Explorer will take you through the details.
Viewing transactions on any blockchain, block or wallet address
You can look up the following information using the search bar on Block Explorers:
Block number.
Transaction Hash/ID.
Wallet address.
Ethereum Name Service (ENS).
A popular use case of Blockchain Explorers is checking the status of a transaction. You can do this by copying and pasting the transaction ID on the search bar.
Another popular use case is using Blockchain Explorers to view a particular wallet, including its balance, tokens, transaction orders, etc.
Looking up the information of a Token issued on a Blockchain
You can also view all assets issued on public blockchains by looking up the tokens' addresses on the search bar. This will provide some basic information, such as the asset name, market cap, current price, total supply and the issuer's address.
How to find the Explorers of each Blockchain?
There are numerous Blockchain Explorers in the market, as each public blockchain has one or more explorers. The most trustworthy of which are still explorers developed by the blockchains' teams, such as:
And more as follows:
Some well-known Blockchain Explorers
In case you are new to a blockchain and don't know how to find its Block Explorer, find it on trustworthy sources, such as CoinGecko or CoinMarketCap.
FAQ about Blockchain Explorers
What are the differences between verified and pending transactions?
Pending transactions are those that haven't got into blocks. Depending on the blockchain and the congestion status, a transaction may take a few minutes to get at least one confirmation. In some cases, transactions may take a longer period of time, for example if the transaction fee was too low.
Verified transactions are those that have been added into blocks.
How to check the status of a transaction made on Coin98 Super App?
You can go to an explorer and search your wallet address or transaction ID to view the status of the transaction.
Coin98 Super App currently supports users to look up addresses, txid and transaction-related information right on the app of specific blockchains: Bitcoin, Ethereum, Binance Smart Chain, HECO Chain, Solana, Near, Avalanche, Tron, Polkadot, Kusama, Cosmos, THORChain, Terra, BandChain, TomoChain, Celo without spending time and effort searching and accessing many websites.
To use this feature, do the following:
Step 1: At the main screen interface, select Terminal.
Step 2: Select Blockchain Explorers.
Step 3: Select the blockchain you want to look up, for example, I choose BNB (Binance Smart Chain).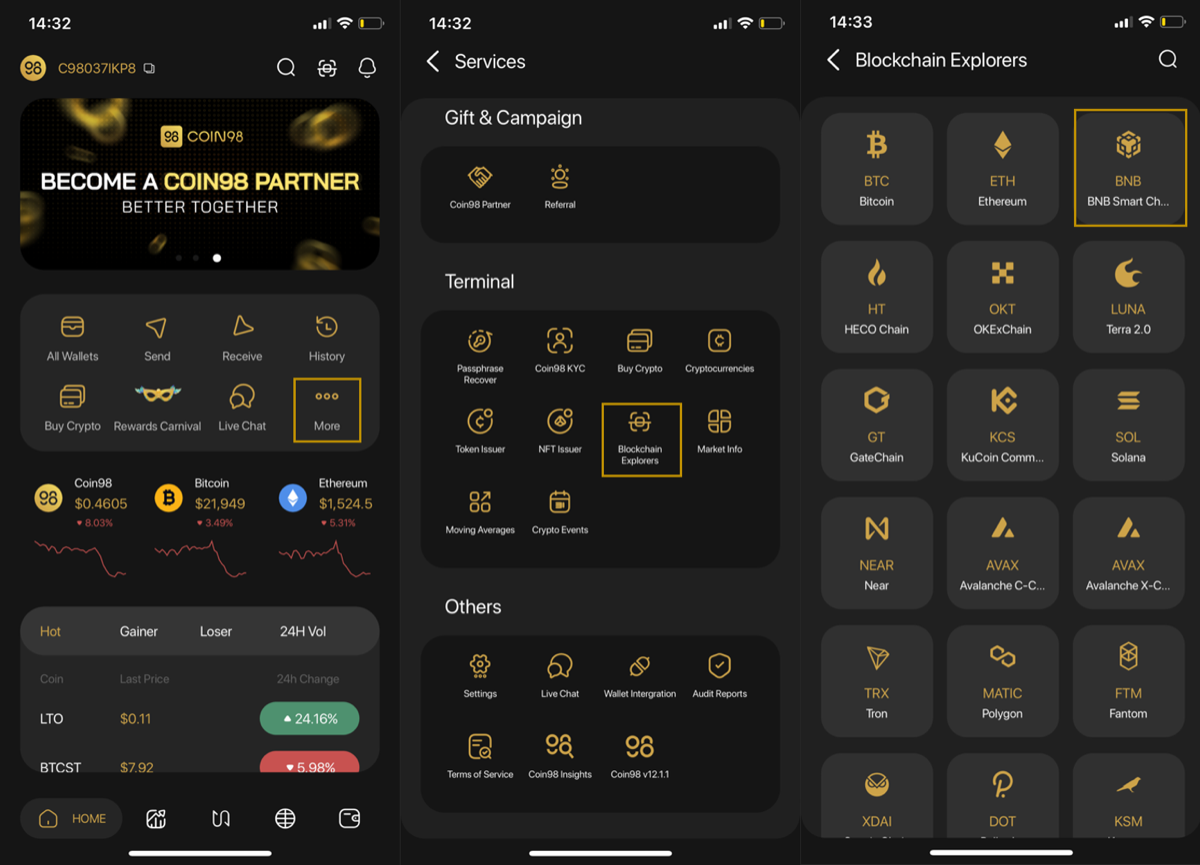 Step 4: Copy the Address, TxID or Block and paste it into the search box, or you can use the QR code scan icon on the right. You can view transaction-related information on the respective blockchain scanners.
Why is the order completed but my balance hasn't changed?
This is just a display issue. Wait for a few minutes for the balance to update itself, or exit and reopen the app.
Why can't I check this particular token on the Explorer?
An Explorer only provides the transactions related to a Token issued on its blockchain. You can't check a token issued on Ethereum with BSCscan.
In case you don't know which chain the token belongs to, CoinGecko or CoinMarketCap can be helpful.
How to check if a token is being stored in a wallet or not?
On Coin98 Wallet:
Click Market on the home page.
Click Blockchain Scan and select the respective chain.
Insert the wallet address to view the list of tokens stored in this wallet.
Conclusion
We've fully covered the general information about Blockchain Explorers and their use cases in this article. If you have any questions regarding this topic, comment down below and we'll get back to you as soon as possible.
Last, Atccoin.net sent you details about the topic "What Is Blockchain Explorer? How To Read Blockchain's Transactions❤️️".Hope with useful information that the article "What Is Blockchain Explorer? How To Read Blockchain's Transactions" It will help readers to be more interested in "What Is Blockchain Explorer? How To Read Blockchain's Transactions [ ❤️️❤️️ ]".
Posts "What Is Blockchain Explorer? How To Read Blockchain's Transactions" posted by on 2023-09-30 18:22:54. Thank you for reading the article at www.atccoin.net