What is Corite CO? All you need to know about CO Token
In 2021, recorded music revenues reached 25.9 billion USD, with 65% coming from streaming music. The majority of revenue was generated by large music streaming services such as Spotify, Apple Music, and YouTube.
However, most musicians make little to no money from their songs. Having fans on Instagram, Tik Tok, or YouTube does not always transfer to Spotify followers and streams, or ticket sales.
The rise of NFT has made it simpler for musicians to engage with fans. According to Water & Music's "NFT market update April 2021" report, musicians have sold 70.5 million USD worth of NFTs to date.
What is Corite CO? 
Corite CO is a decentralized music distribution platform, developed on BNB Chain. Corite CO allows musicians to generate funds, receive fan support, and in return, share their revenues from major streaming platforms such as Spotify, Apple Music, YouTube, and TikTok.
With Corite, artists have full control and ownership over their content, while fans can enjoy the music and communicate directly with their favorite artists. Corite's business model is similar to Play to Earn, where artists and fans are rewarded with CO tokens, badges, NFTs, etc. when contributing their parts.
Corite CO can be seen as the blockchain version of Spotify. On June 6, 2022, Corite was awarded as one of the featured projects on BNB Chain.
How does Corite CO work?
For artists
Artists can get funding and marketing support from backers through crowdfunding campaigns. A typical campaign includes a presentation of the artist and the music, previous accomplishments, social follows, photos, and a snippet of the music.
Artists can also create challenges that fans must achieve in order to be rewarded. Some challenges are automatically created when the artist achieves a certain goal or milestone.
Artists will gain Fan Power tokens after releasing songs and setting up fan challenges. Besides, artists can also create and sell Corite Originals, music NFTs that exist in the BEP-1155 standard. These NFTs have attributes and features that increase NFT's possibilities in the world of music.
Songs are released through Corite to all major music services, including Spotify, Apple Music, Deezer, Tidal, Amazon Music, Shazam, Youtube, and Tiktok.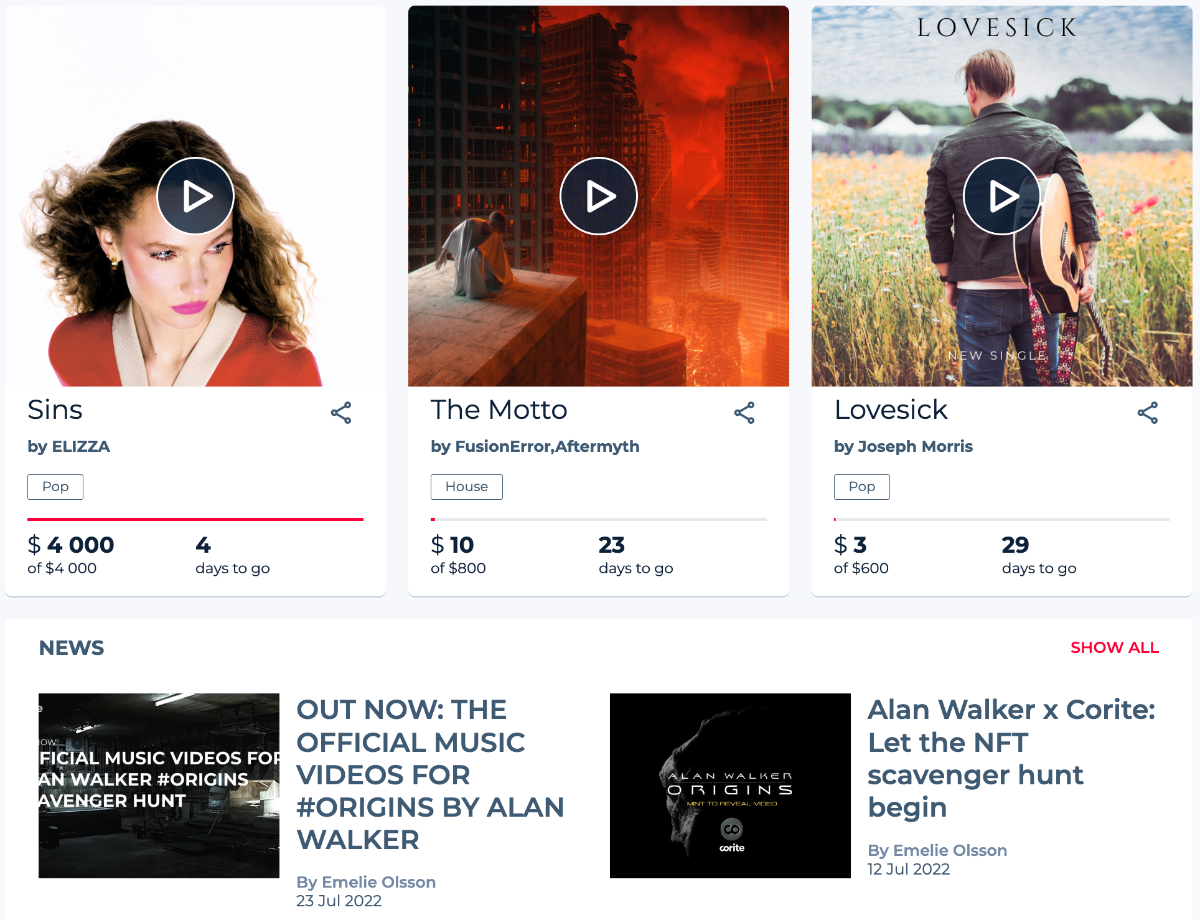 For fans
Fans can become marketers, sponsors, co-creators, listeners, followers… of their favorite artists. After participating in the fundraising campaign, fans can track the song's release process and receive a real-time revenue share from all major streaming services. 
The Fan Power tokens represent how active fans are. The more tokens fans own, the more incentives and benefits they will enjoy. The amount of Fan Power tokens is determined by:
Number of artists supported.
Number of NFTs purchased or earned.
Completed fan missions.
Following artists on Spotify and other services.
Sharing music on social media.
Creating and sharing playlists.
Numbers of songs reviewed.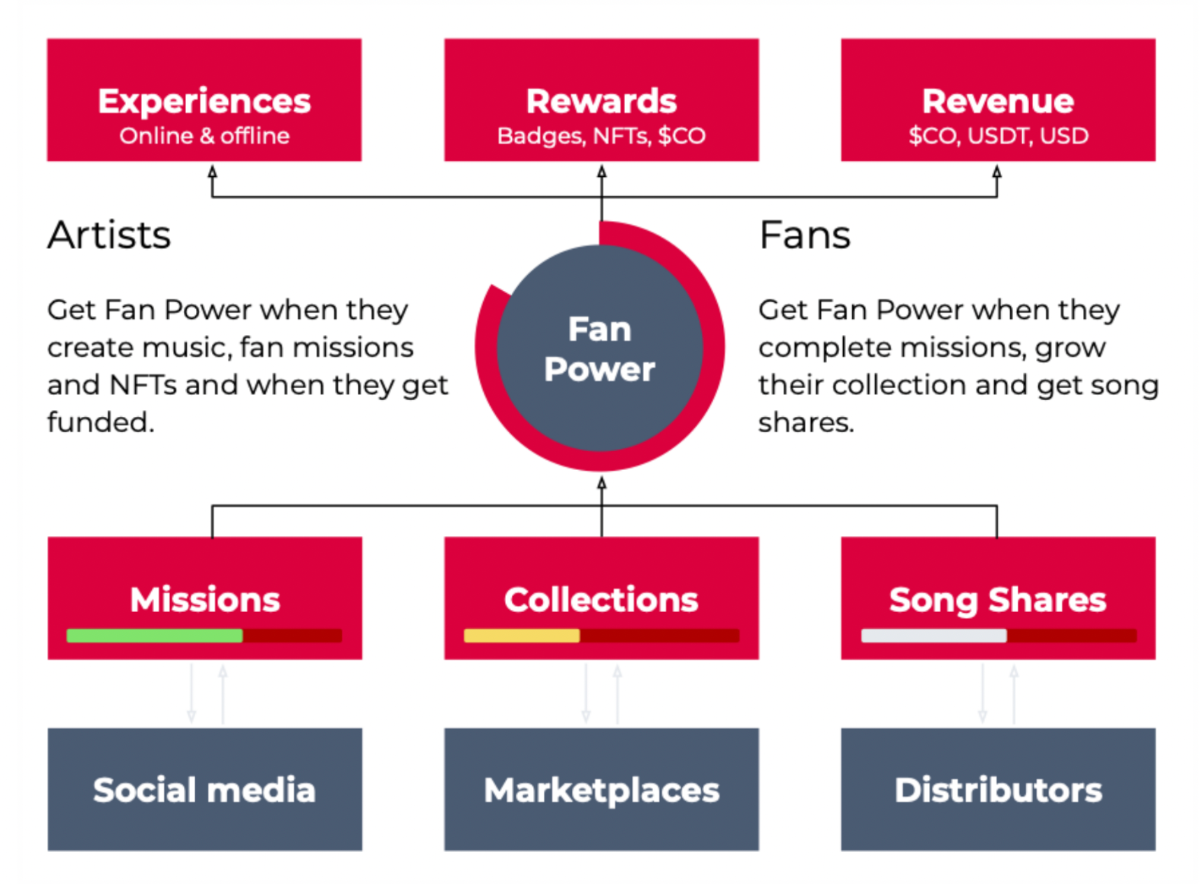 CO token Use Cases
CO token holders can take part in crowdfunding campaigns, receive discounts, have early access to new releases, contribute to the platform in exchange for rewards, trade Corite Originals NFTs, generate social tokens, join DAOs, and administer the Corite ecosystem.
By locking CO tokens, fans will gain early access to crowdfunding campaigns. The CO tokens locked will be returned after the campaign is over.
Team, Investors, and Partners
Team
Corite CO was founded by a team with substantial experience in music and media:
CEO & Founder – Mattias Tengblad: Over 20 years of experience in management, business development, and marketing. He used to work as a commercial director for Universal Music, the world's leading music company, which has nurtured the success of many popular musicians, including Shawn Mendes, Eminem, BlackPink, Selena Gomez, Justin Bieber, Taylor Swift, and Maroon 5.
Creative Director & Founder – Emil Angervall: Over 20 years of experience in design, He co-founded and launched numerous business projects. Emil used to work as Universal Music's creative director.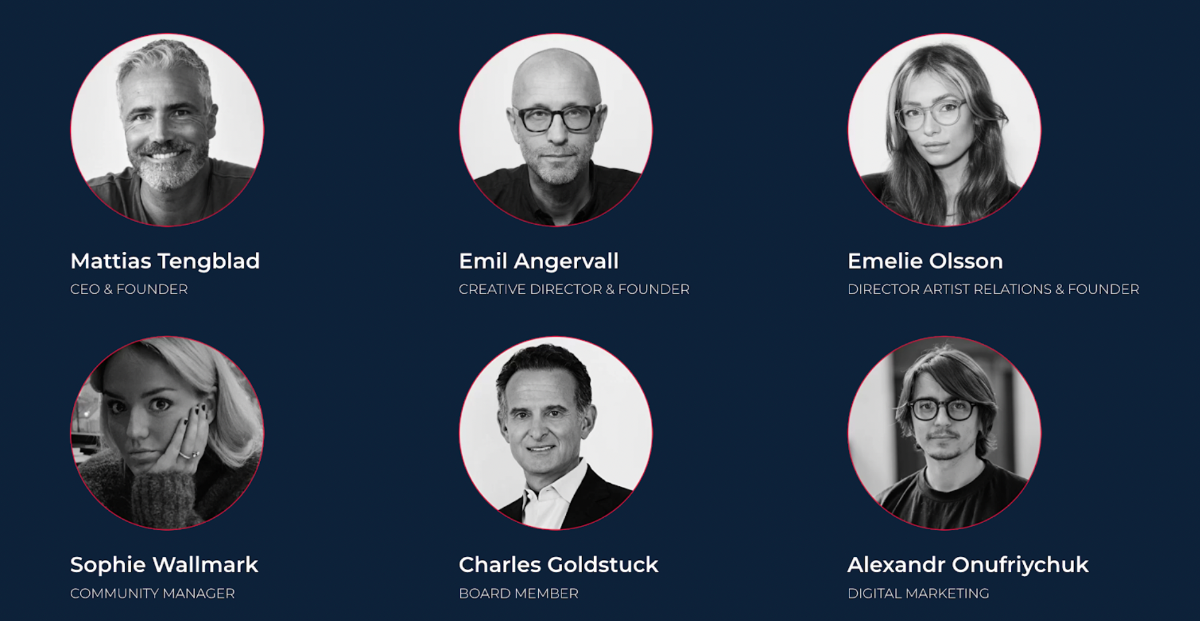 Investors
Corite is funded by many crypto investors, including:
Gate.io: One of China's oldest exchanges, established in 2013 under the direction of Mr. Lin Han.
Coin98 Ventures: The investment arm of Coin98 Finance, offering financial capital and resources to enable financial innovations in the DeFi space.
Other investors include Kyros Investment, Shima Capital, KuCoin Labs…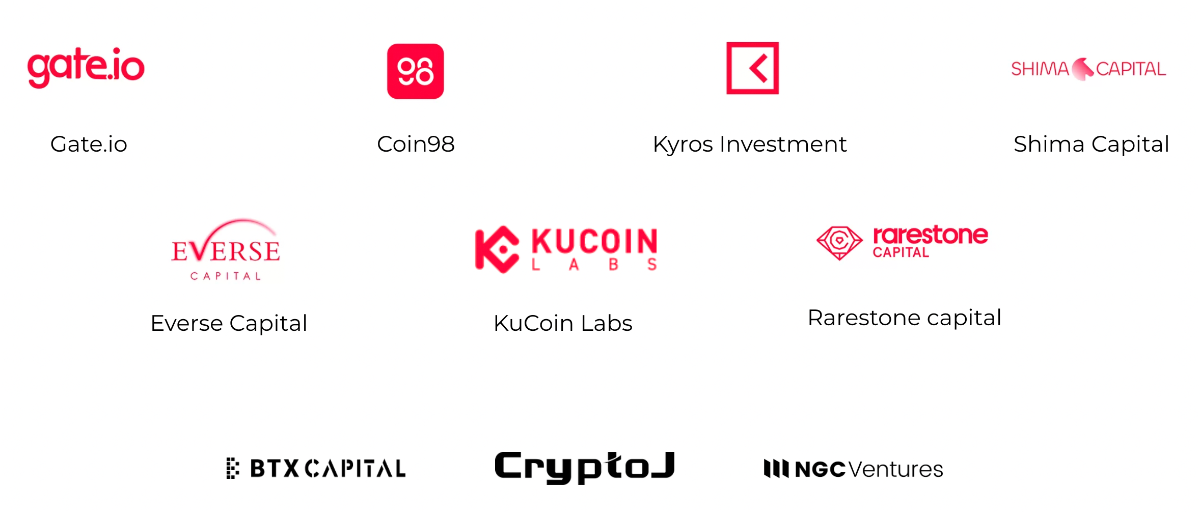 Partners
Alan Walker: A musician with over 10 billion YouTube views. Alan Walker's Unity song crowdfunding campaign on Corite was completed in less than a week. More Alan Walker songs will be available on Corite in the near future.
Rico Love: A Grammy Award-winning music producer who worked with Beyonce, Usher, and others. He currently works with Corite as an advisor.
Hitco Music: One of the top entertainment companies led by industry legends L.A. Reid and Charles Goldstuck. LA Reid works with Corite as an advisor. 
Roadmap & Updates
Q2/2022: Fan power & Song shares 
Airdrop NFTs 
CO wallet 
Fan Power & Song Shares on blockchain
Q3/2022: CO token & Fan missions
On hold: Public launch of the $CO 
Fan funding on blockchain 
Fan missions & Corite Originals (v1) 
Q4/2022: Play to Earn & Hero projects
Clubs 
Corite Originals (v2)
Community tokens 
What is CO Token?
CO is a platform currency that allows its holders to participate in crowdfunding, purchase NFTs, receive social tokens, and gain access to VIP benefits on Corite.
Detailed information about the CO token
CO Key Metrics 
Token Name: Corite CO
Ticker: CO
Blockchain: Binance Smart Chain
Token Standard: BEP-20
Contract: 0x936B6659Ad0C1b244Ba8Efe639092acae30dc8d6
Token type: Utility, Governance
Total Supply: 1,000,000,000 CO
Circulating Supply: 17,100,000 CO
How to get CO Token
Users can buy CO token through supported exchanges.
How to store CO Token
CO tokens can be stored in a variety of wallets, including Coin98 Wallet, Metamask, Mycrypto wallet, or cold wallets like Ledger and Trezor.
How to buy CO Token
Users can buy CO token through Bybit exchange or on PancakeSwap.
Similar Projects
Sound.xyz: This project enables music NFT auctions as well as direct engagement with musicians.
Vezt Inc: The music marketplace enables fans to sponsor their favorite musicians in exchange for a percentage of the product sales.
Website: corite.org
Last, Atccoin.net sent you details about the topic "What is Corite CO? All you need to know about CO Token❤️️".Hope with useful information that the article "What is Corite CO? All you need to know about CO Token" It will help readers to be more interested in "What is Corite CO? All you need to know about CO Token [ ❤️️❤️️ ]".
Posts "What is Corite CO? All you need to know about CO Token" posted by on 2023-09-30 11:07:12. Thank you for reading the article at www.atccoin.net