What is Navi Protocol? Everything about Navi platform
What is Navi Protocol?
Navi Protocol is a lending and borrowing platform in the Sui ecosystem that connect between lenders and borrowers. Aave served as an inspiration for this project, which follows its model closely.
Borrowers: They must mortgage their property to borrow assets.
Lenders: They can contribute to the pool to borrow money and earn interest.
Users may connect a variety of assets thanks to Navi's flexibility, and the project's enhanced safety features protect user funds and reduce systemic risk. The project has not yet released mainnet and is still in development. Users can join the waitlist testnet to have the opportunity to be early adopters and benefit from the incentives.
Features & revenue of Navi Protocol
Features of Navi Protocol
Navi Protocol products and features include:
1. Lending & Borrowing
Lending Assets: On the site, users can deposit assets to earn income. To participate in property lending, users must take the following actions:

Connect a wallet that is compatible with the app.
Choose the type of property you would like to lend.
Deposit assets into lending pools.
The user will begin earning interest on the lent asset after making a deposit. Interest is accrued and paid on a regular basis. It can be withdrawn at any time, along with any income.
Borrowing Assets: Through collateral, users may borrow any type of asset.  To participate in property borrowing, users must take the following actions:

Connect a wallet that is compatible with the app.
Deposit token as collateral.
Choose the type of property you would like to borrow.
Make sure the amount you need to borrow is within the app's permitted range before choosing.  
Users can pay back the loan at any moment to release their collateral and will be charged interest on the amount they borrowed.
2. Supported Assets
The project offers users access to a wide range of assets, including:
Blue Chip assets: The project supports the lending and borrowing of highly liquid and capitalized assets:

Wrapped Bitcoin (WBTC)
Wrapped Ethereum (WETH)
Wrapped Binance Coin (WBNB)
Sui (SUI)
Aptos (APTOS)

Yield-Bearing Tokens
Navi supports users mortgages with yield-bearing tokens (liquid staking derivatives and LP tokens such as mSUI, stETH, etc.) for capital use in the DeFi ecosystem.
Long-tail and exotic asset

The economic word "long-tail" refers to goods that have low demand or sales volume but high market share and cheap selling expenses, generating long-term profitability for businesses or organizations.
Traditional markets like AAVE and Compound make it challenging for exotic and long-tail assets to be listed on the platform. If the pool for long-tail and exotic assets is attacked or suffers from bad debt, Navi has employed the isolation mode strategy to reduce risks and prevent having an impact on the overall project.
Additionally, Navi provides asset risk management tools including debt ceilings, supply limitations, and borrowing restrictions (together referred to as "debt ceilings," "supply limits," and "borrow limits").
3. Flash Loans
Additionally, Navi provides quick loans that let customers borrow property without collateral in a single transaction.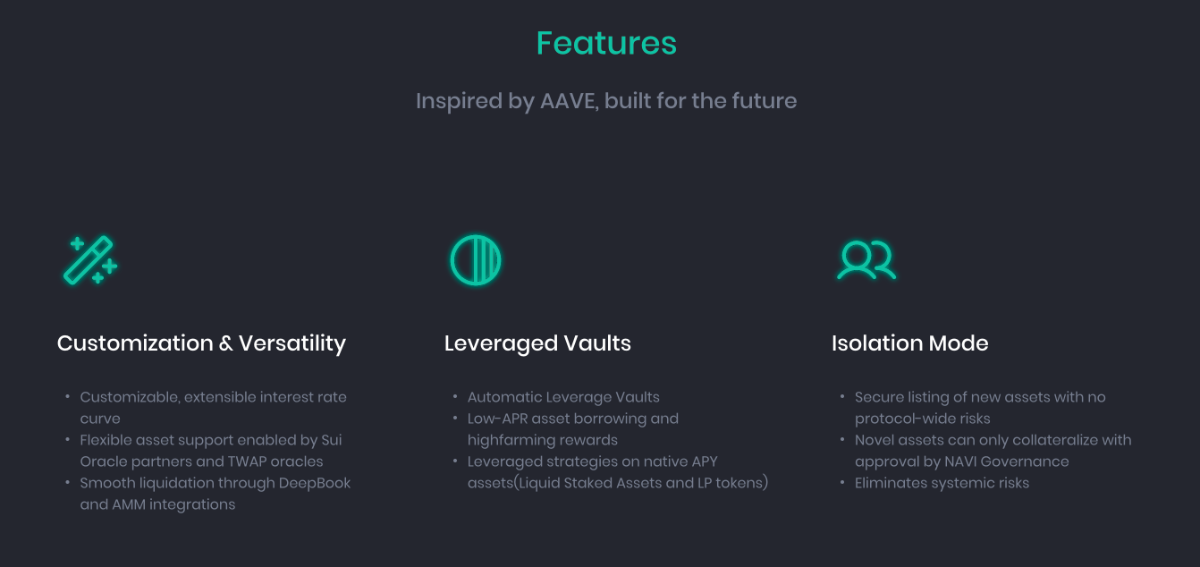 Revenue of Navi Protocol
The testnet phase of Navi Protocol has not yet stated any particular revenue. For lending projects, their revenue will often be:
The gap in interest rates between loans and savings.
Reward from the liquidation of the assets of users with bad debt.
Highlights of the Navi Protocol
The platform will integrate with the Sui Ecosystem's Deepbook to leverage centralized liquidity and provide users with an optimal trading experience.
Liquidators can purchase under-collateralized assets at a discount on the DEX, providing an incentive to maintain the health and stability of the lending pool.
The platform utilizes a variety of oracle providers to ensure secure, reliable, and scalable price feeds for all supported assets. These oracles ensure accurate pricing information, which is essential for determining collateral value and enforcing platform security mechanisms.
In the future, Navi will continue supporting exotic assets, and yield-bearing tokens, plan with a variety of DEXes, and develop custom oracles for these assets. 
What is the NAVI Token?
At this point, Navi Protocol is under development and will launch a testnet in the near future. The NAVI token will be used in the testnet and there is no specific information about tokenomics. Coin98 will update as soon as official information is available.
NAVI Token Use Cases
The NAVI token is used in the following roles:
Staking: Users can stake the native token to receive rewards in the form of trading fees from the perpetuals exchange and interest income from the lending platform. The reward distribution is proportional to the amount of native tokens staked, incentivizing long-term commitment to the ecosystem.
Governance: Token holders can participate in the governance of the Navi Protocol by voting on proposals and updates. 
Fee Collection and Distribution: Fees are collected by the Navi protocol on all transactions involving loans and perpetuity. Stakeholders receive a portion of this charge, while the platform's treasury and other operations receive the remainder.
Roadmap and updates
Navi Protocol's development roadmap as below:
Phase 1 (Q2 2023)

Launch of liquidity protocol initially supporting SUI, USD stablecoins, wrapped ETH, and wrapped BTC.
NAVI token launch.
DAO setup and governance functionality are available.
Staking is available for NAVI tokens in the liquidity protocol.
Leveraged vault UI launch.

Phase 2 (Q4/2023): Integration with Sui Foundation's Deepbook to utilize deep liquidity and provide users with an optimal trading experience.
Phase 3 (2024): Launch of stablecoin on top of the money market protocol.
Although it has not yet been launched and is still under development, the Navi Protocol has achieved milestones like:
03/05/2023: Partnered with Turbos Finance, a hyper-efficient DEX on the SuiNetwork.
04/05/2023: Partnered with Cetus Protocol, a premier concentrated liquidity DEX on Sui.
05/05/2023: Partnered with MovEX, a community-driven DEX aiming to provide stellar trading and liquidity provision and experience for users.
Team members
There is no information about Navi Protocol's team.
Investors and Partners
Investors, Fundraising
Navi Protocol does not disclose investor information or funding rounds.
Strategic Partners
Navi Protocol partners are also projects or platforms running on the Sui network, such as: Typus Finance, Cetus Protocol, DeepBook, MoveBit, Turbos Finance, Martian, MSafe, Kriya DEX, Suiet/Sui Wallet and OtterSec.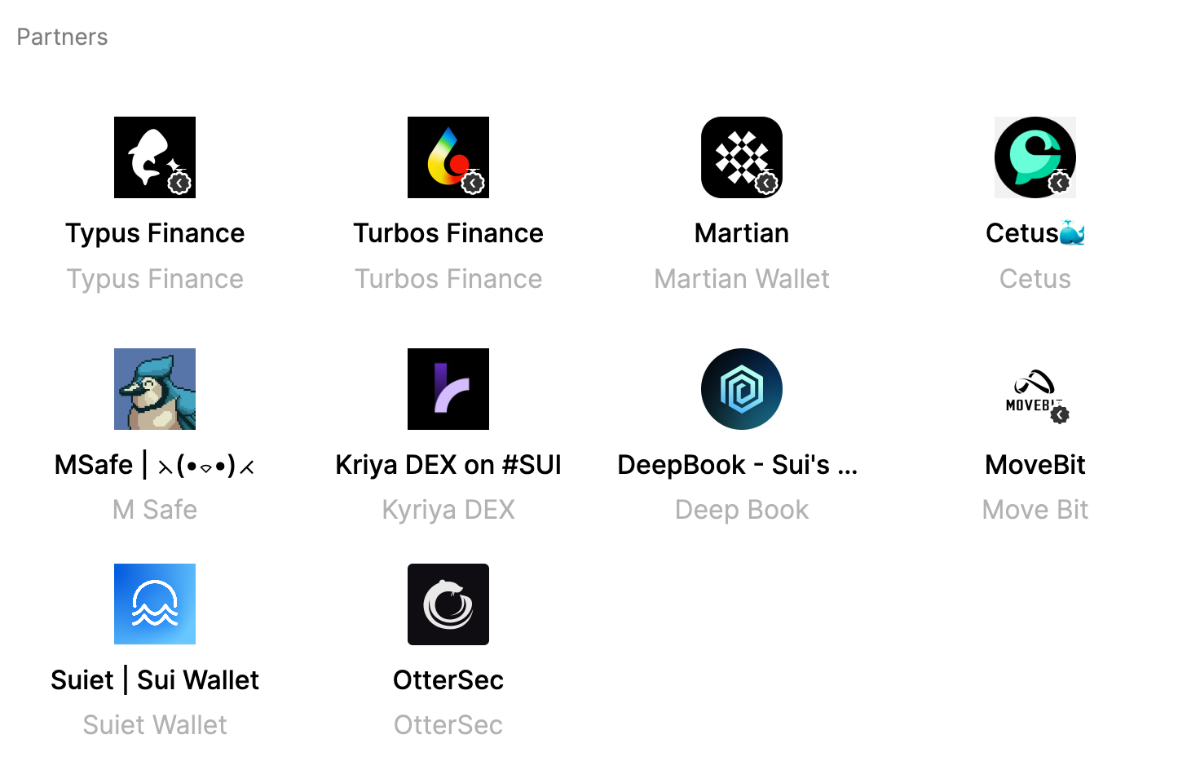 Similar projects
Similar projects that should be mentioned: ABEL Finance, Bucket Protocol, Interest Protocol…
If you have any questions regarding this topic, please feel free to leave a comment below. We will answer your questions as soon as possible. See you in the next posts.
Last, Atccoin.net sent you details about the topic "What is Navi Protocol? Everything about Navi platform❤️️".Hope with useful information that the article "What is Navi Protocol? Everything about Navi platform" It will help readers to be more interested in "What is Navi Protocol? Everything about Navi platform [ ❤️️❤️️ ]".
Posts "What is Navi Protocol? Everything about Navi platform" posted by on 2023-09-29 11:56:42. Thank you for reading the article at www.atccoin.net