What Is Phishing Attack? Ways To Prevent Phishing Attacks
Along with the rise in popularity of the crypto market is the increasing number of new crypto adopters. They join this fruitful market in hopes of making money as quickly as possible, therefore, become highly potential victims to cyber security attacks, including phishing attacks.
What is phishing attack?
Phishing attack is referred to as sophisticated ways of communication that may look like coming from reliable sources, but can compromise users' personal data and account information. In cryptocurrency, this information is commonly private keys or passphrases, giving hackers access to users' funds and assets.
As blockchain is secure and decentralized, it entails problems of attackers staying anonymous and funds being irretrievable, and phishing still remains one of the most popular cyberattacks. This is proven by approximately $14 million worth of crypto stolen in 2021 alone.
How does phishing work?
Commonly, phishing attacks start with the attacker sending messages in various forms to victims, which involve a well-known, legitimate party. These messages usually contain a link that takes users to a fake website that's designed identically to the authentic one. However, once the victim inserts their information into the website, the attacker immediately has access to their accounts.
These messages usually trigger the victims' sense of urgency or fear, for example, warning them about a problem or suspicious activity in their account. In some cases, the attackers may try to lure users by creating fake airdrops, asking them to insert private keys or passphrases to claim. This is how attackers get access to users' private information and steal their assets.
New crypto entrants, who are unfamiliar with the importance of wallet keys, or the difference between authentic and fake websites, are the most common targets of these attacks. Therefore, it is crucial to always do proper research before participating in different activities in crypto.
3 types of Phishing attacks in crypto
Phishing Email
Phishing Email is a common type of phishing, in which the attacker sends out mass emails to victims posing as an authentic and reliable party, asking them to provide personal information. These emails may look like coming from either a person or an organization, e.g. a CEO, an exchange, etc.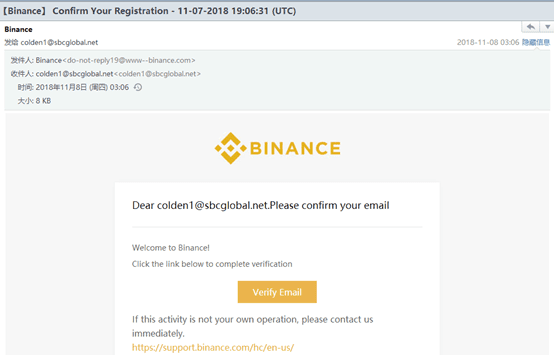 Phishing emails are quite difficult to spot, but they have certain distinctive features that investors can look for, such as spelling or grammar errors, unofficial email address (public email instead of corporate email), mismatched content, etc.
URL Redirection & URL Phishing
This is another popular type of phishing in which hackers try to lure victims into fake websites. These websites usually ask users to insert their login credentials that will be stolen later on and may contain these features:
Up to 99% similarity with authentic websites.
The link (url) is almost identical to the original one, for instance:

Binance.com (real) vs Blnance.com (fake)
Microsoft.com (real) vs Mircosoft.com (fake)
Kucoin.com (real) vs Kuktoin.com (fake)

Contains call-to-actions, encouraging victims to insert their information into the website then steal them.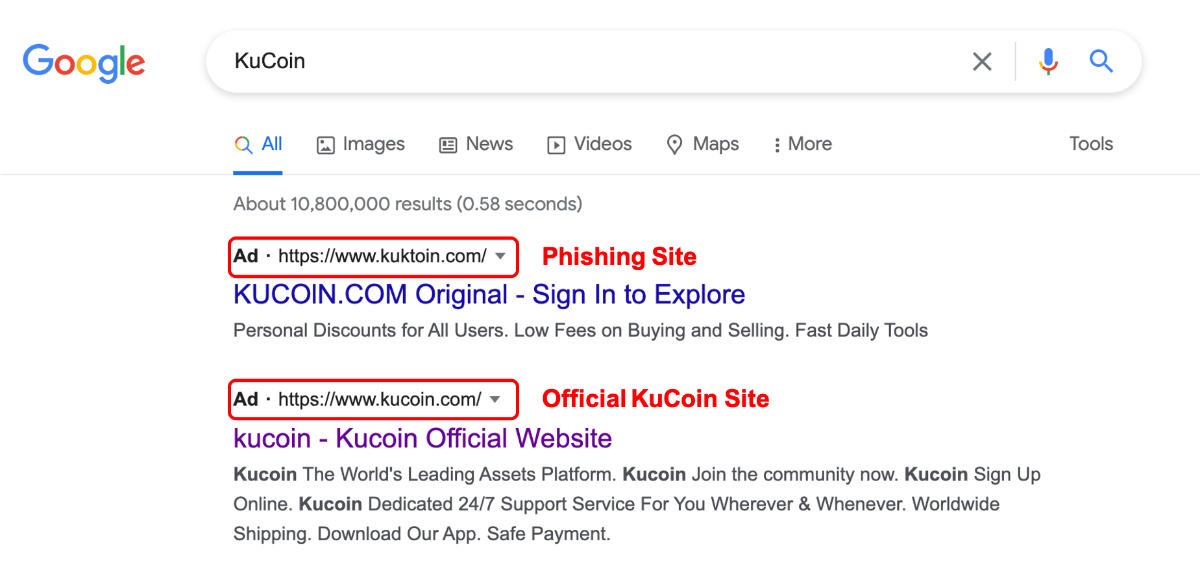 It is crucial to always double check the url and designs to find out abnormalities before inserting your information or credentials into any website.
Voice Phishing
Voice phishing is also referred to as automated dialog fraud. The victim will be informed of abnormal activities of their bank or exchange accounts, credit cards, etc. Hackers then use the personal information that the victims provide for "identity confirmation" to steal their assets. This type of phishing also exists under the form of SMS messages.
How to prevent Phishing Attacks
There are certain ways to identify and prevent phishing attacks:
Look for errors in the content: Most attackers rush to send out their emails, SMS or private messages to victims without proofreading their content. Therefore, phishing messages usually contain plenty of spelling, grammar or alignment errors, and these can be helpful in spotting phishing attacks.
Double check the URL: As mentioned above, the fake links are usually designed to look identical to the original ones, therefore, it is recommended to get familiarized with the original brand assets and check the links carefully before accessing them.
Check the website's SSL (Secure Socket Layer) and digital certificate: Most legitimate websites have SSL and digital certificates to protect users. Investors should look for these features on the website before inserting any information into it.
FAQs about Phishing Attacks
Why is Phishing a problem? 
Phishing is a type of cyberattack in which the attackers pose as a legitimate party to lure victims into providing their personal information. Once the attackers get their hands on this crucial information, the victims' accounts, assets and funds might be stolen.
Moreover, the authentic organizations' reputation might be affected if too many newcomers in the market get attacked without clarification. If the company/organization is still small, it might be harder for them to gain the community's trust.
What causes a Phishing attack?
As the crypto market becomes more popular worldwide, it onboards more and more users on a daily basis, especially during bull markets. New entrants can easily become victims as they are hungry to profit from this fruitful market without doing proper research.
What is the best protection against Phishing?
Some tips for investors to avoid phishing attack in crypto are:
Be cautious when receiving emails or messages containing links or attachments. If needed, they can double check the contact information directly on the official website of the organization.
Always update all devices' operating systems and software.
Set up strong passwords (containing uppercase and lowercase letters, numbers and symbols, etc.)
Enable two-factor authentication (2FA) on exchanges and applications. You can use Google Authenticator or Authy to set up 2FA.
Acknowledge the importance of passphrases/private keys and other related information. It is recommended to write the keys down and keep them somewhere safe.
Get familiarized with reputable organizations' brand assets. Only keep assets and funds on trustworthy platforms.
Do proper research and legitimation check on new companies/organizations.
Avoid using public wifi to access personal information, and use VPN if possible.
Conclusion
Phishing attacks are a common problem in the crypto space. It may happen to anyone, therefore, both experienced users and newcomers should be cautious whenever they receive any type of message to avoid losing funds and assets.
Last, Atccoin.net sent you details about the topic "What Is Phishing Attack? Ways To Prevent Phishing Attacks❤️️".Hope with useful information that the article "What Is Phishing Attack? Ways To Prevent Phishing Attacks" It will help readers to be more interested in "What Is Phishing Attack? Ways To Prevent Phishing Attacks [ ❤️️❤️️ ]".
Posts "What Is Phishing Attack? Ways To Prevent Phishing Attacks" posted by on 2023-09-29 10:40:30. Thank you for reading the article at www.atccoin.net