What is the Cetus Protocol? Everything about CETUS Token
What is Cetus Protocol?
Cetus Protocol is a decentralized exchange (AMM DEX) that uses a centralized liquidity mechanism (CLMM, Concentrated Liquidity Market Maker). Furthermore, Cetus was built on the Sui and Aptos blockchain. Cetus is a permissionless DEX, therefore, anyone could trade, add liquidity and create a liquidity pool.
By connecting non-custodial wallets through Sui Chain or Aptos Chain, users can experience the project.
Wallets that supported Sui Network: Sui Wallet, Suiet, Fewcha, Martian, OKX, Morphis, Ethos and Spacecy.
Wallets that supported Aptos: Coin98, Martian, Petra, BitKeep, Rise, OpenBlock, Trust, TokenPocket.. 
Features & revenue of Cetus Protocol
Features of Cetus Protocol
Cetus Protocol products and features include:
Swap
Pools
Launchpad
Bridge
Stats 
1. Swap
Users can swap multiple tokens on Cetus protocol. Swaps may be taken on the app and quickly transferred to the wallet thanks to minimal transaction costs and quick processing times. In addition, the interface also displays the chart and rate of the token that the user can choose.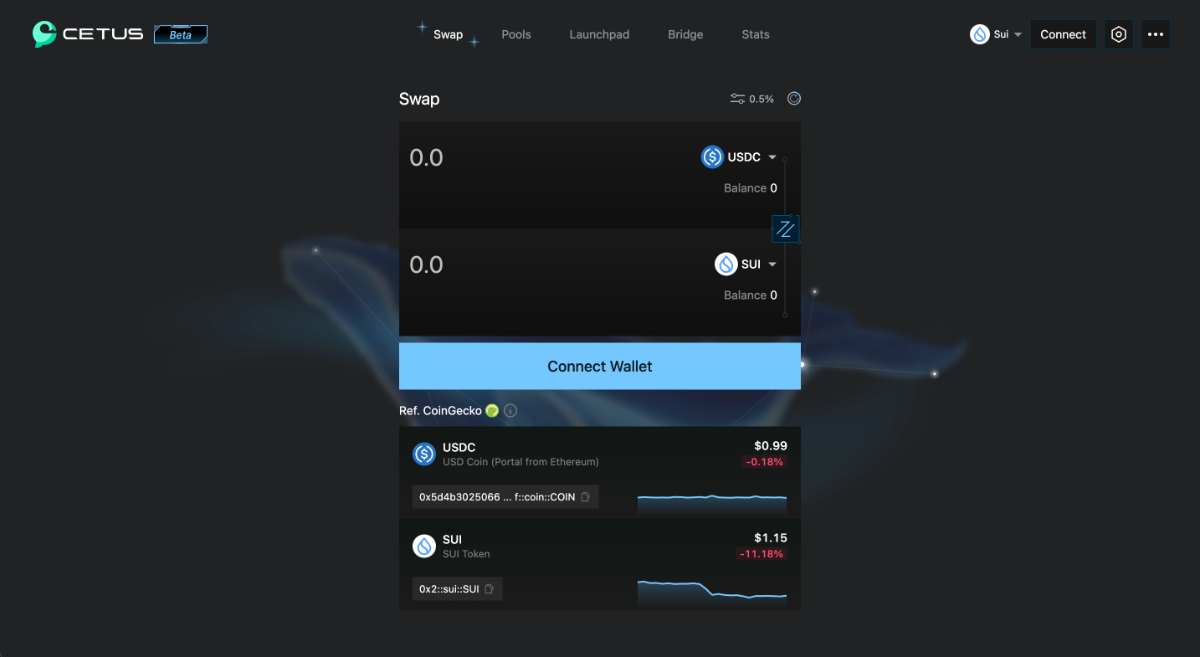 2. Pools
Users can provide liquidity at the pools, select a price range for effective liquidity, and earn fees from there. Users can create numerous pools inside the protocol for the same token pair with various fees. The protocol will permit 4 tiers: 0.01%, 0.05%, 0.25% and 1%.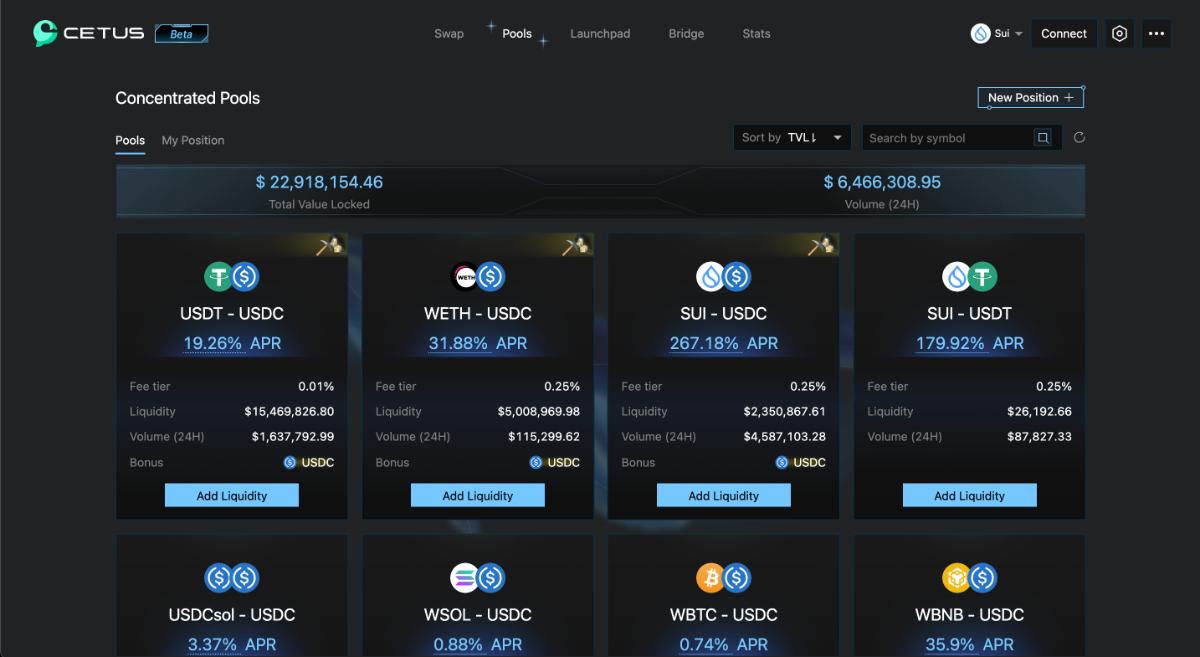 Additionally, Cetus protocol offers 4 price range modes that correlate to various levels of risk and return:
Conservative: The mode aids users in making investments in a safe pricing range with less risk and a low APR.
Active: This mode's pricing range is more constrained than conservative's, which results in a higher APR and a higher impermanent loss percentage. It's suitable for those who usually keep track of the market.
Full Range: This option enables users to operate in all price ranges with the least amount of impermanent loss. However, compared to other options, the APR percentage will be lower. It's appropriate for individuals who like to invest securely but lack of time to keep track of the market.
Custom: In this option, users can choose a price range and receive the APR percentage. Suitable for those who frequently understand and update the market.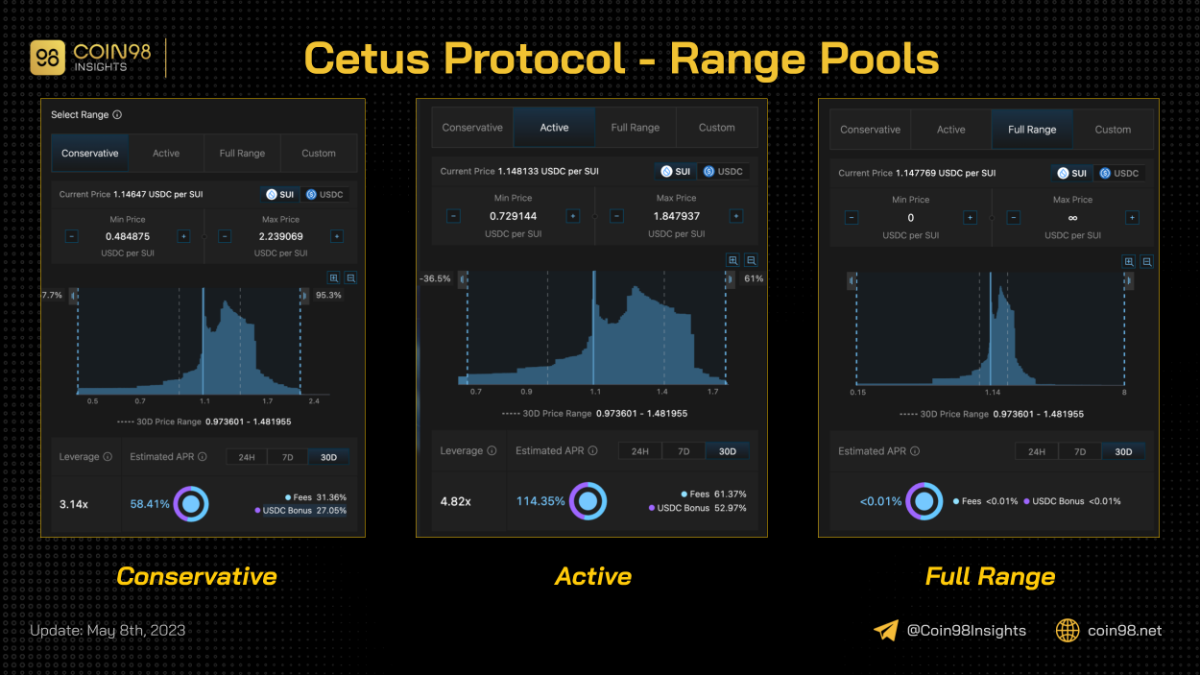 Users will obtain an NFT as evidence of their position when they add liquidity to their specified price range (as a position or liquidity position). The NFT will record the following information of a position:
A unique ID
Pool address
Position index in the pool
Position name
Description
NFT url
Position's lower tick index
Position's upper tick index
Liquidity
3. Launchpad
Cetus Launchpad is an Initial DEX Offering (IDO) platform that allows projects to raise capital from the crowd. On the contrary, investors can invest early in potential projects.
At the moment, Cetus is the first project supported by the Cetus launchpad. To participate in this token sale, users must stake their SUI tokens.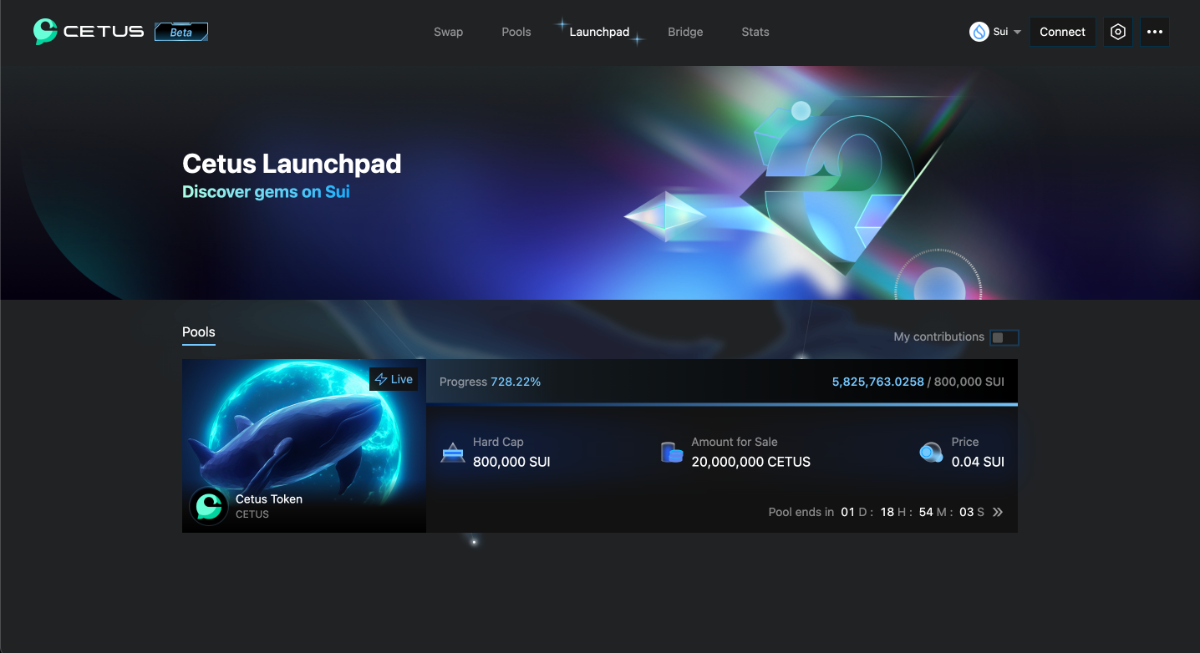 4. Bridge
Cetus also integrates token conversion through the Portal Bridge, a bridge that supports many types of assets (tokens, NFT) on multi-chain. Portal Bridge allows users to connect non-custodial wallets and trade to transfer assets to the Aptos or Sui chains.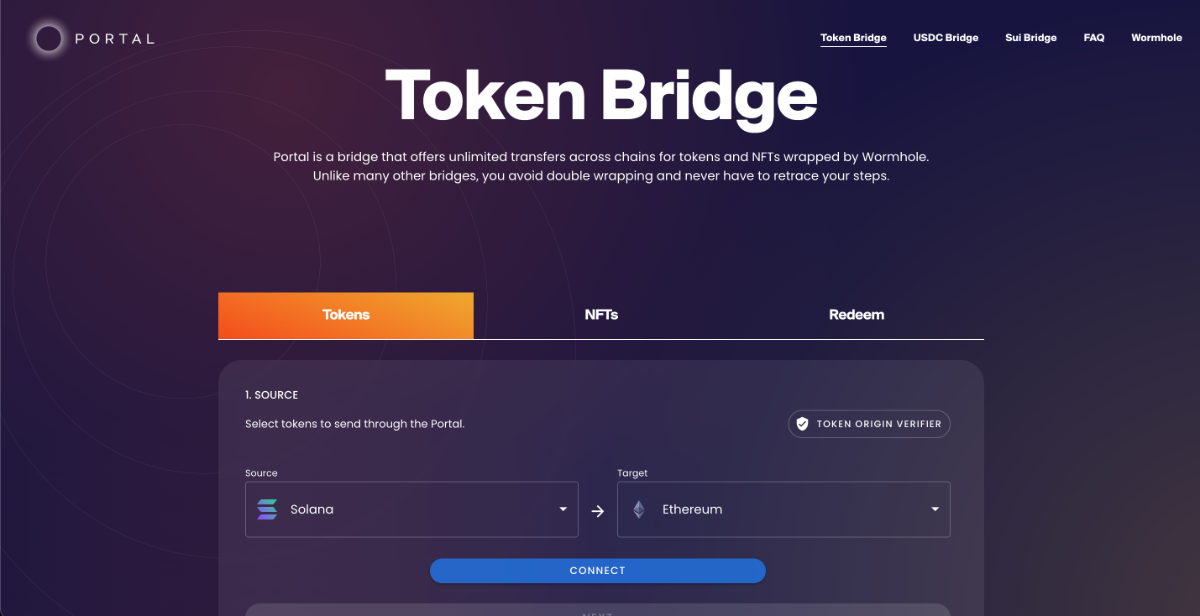 5. Stats
This feature allows users to access and view stats such as transaction volume (by day, week, and month), top pools (filtered by price, percentage change, TVL, and volume), and top tokens (filtered by TVL, volume, and APR). Users can analyze the project as well as the pools or tokens that are interested in the market by using all of these metrics.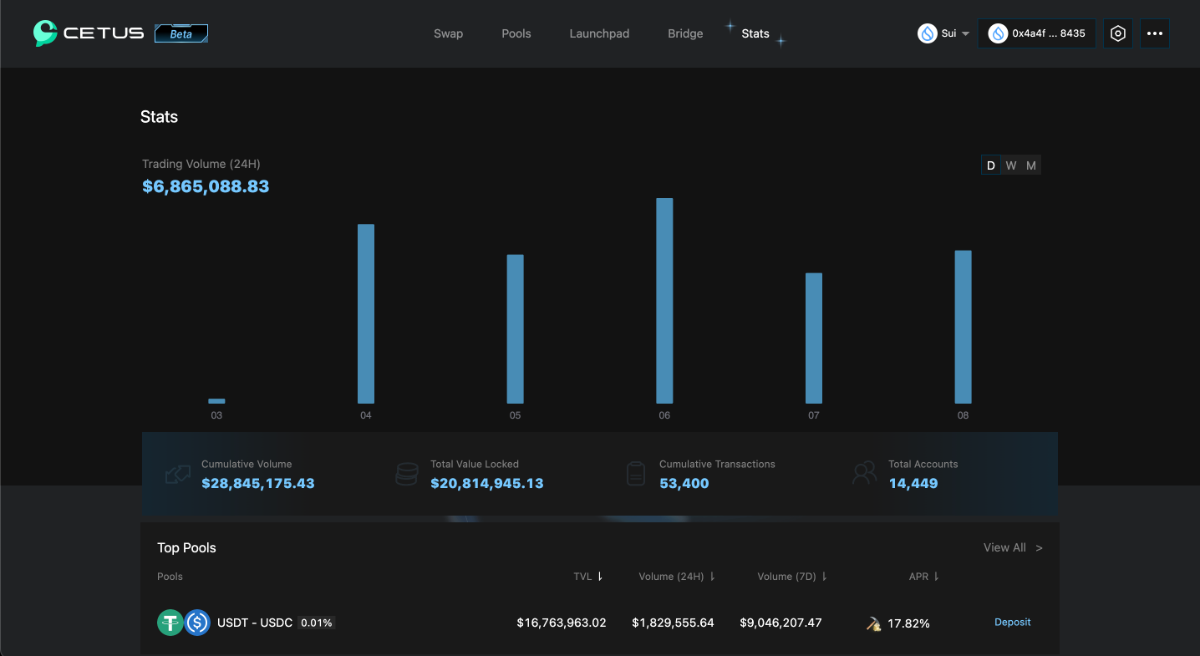 Revenue from the Cetus Protocol
Although the Cetus protocol makes no mention of income, 20% of the swap transaction charge is deducted as the protocol fee to support the project. According to Sui and Aptos Chain, the total transaction volume on Cetus as of May 8, 2023, was 6,824,786.12 USD and 10,766.14 USD, etc.
Highlights of the Cetus Protocol
The concentration of liquidity (backed by CLMM) in specific price ranges also helps LPs earn transaction fees and optimize capital usage.
Projects can integrate or use Cetus liquidity through the Cetus SDK toolkit.
Cetus is built on Aptos and Sui, where there aren't many CLMM Dexes. By doing this, the project will be able to develop a system for attracting potential contributors.
What is the CETUS Token? 
CETUS Token Key Metric 
​​Token Name: Cetus Protocol 
Ticker: CETUS
Blockchain: Sui
Token Contract: Updating…
Token Type: Utility
Total Supply: 1,000,000,000 CETUS 
Circulating Supply: Updating…
CETUS Token Use Cases
The CETUS token is used in the following roles:
Governance
Utility on Cetus Protocol
Besides, staked CETUS tokens will be converted into xCETUS with a conversation ratio of 1:1 (Cetus Escrowed Token), utilities:
Governance
Farm Boosting
Joining launchpad
CETUS Token Allocation
Community & LP: 50% – 500,000,000 CETUS
Team & Advisors: 20% – 200,000,000 CETUS
Investors:  15% – 150,000,000 CETUS
Eco Treasury: 15% – 150,000,000 CETUS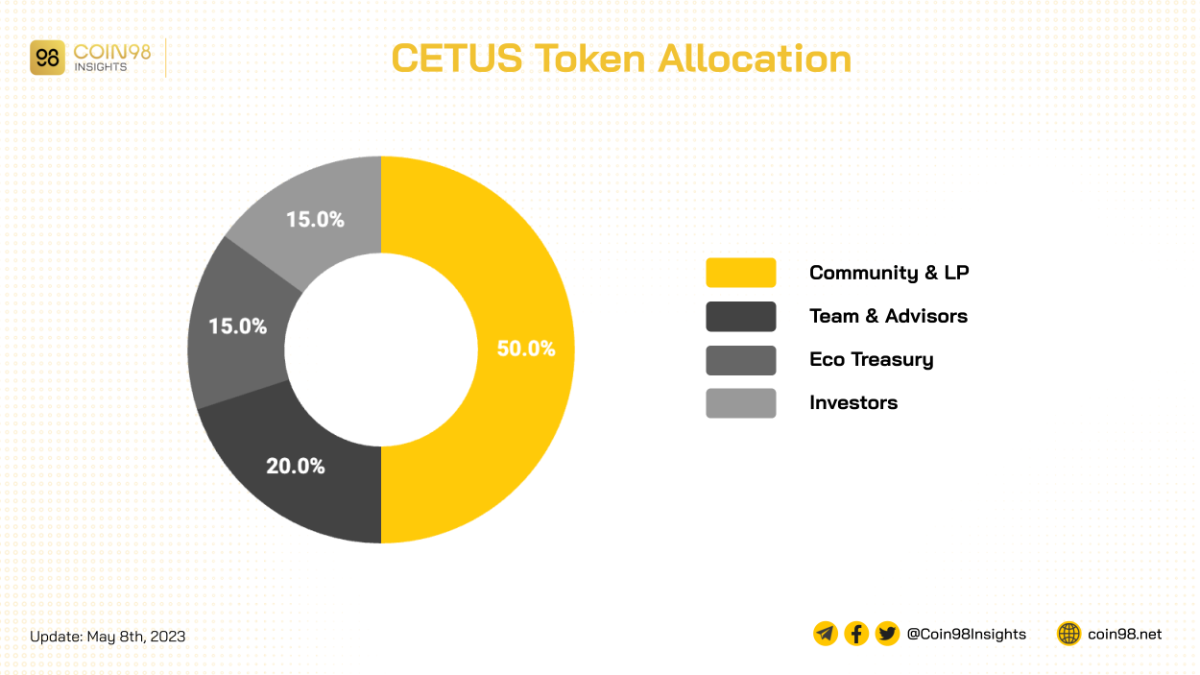 Token Release Schedule 
CETUS Token release schedule:
Community & LP: 50% – Distributed via yield farming and other liquidity incentivization schemes
Team & Advisors: 20% owned by the founding team contributors and key advisors, 12 months locking and 24 months monthly vesting.
Investors: 15% – Up to 15% reserved for private fundraising and strategic fundraising, 6 months locking & 12 months monthly vesting.
Eco Treasury: 15% – Reserved for initial liquidity, long-term community campaigns and insurance funds.
CETUS Token Sale 
IDO CETUS having the following details:
IDO Starting: 17:00 PM – 08/05/2023
IDO End: 17:00 PM – 10/05/2023
Receive Starts: 17:00 PM – 10/05/2023
IDO Token Supply: 20,000,000 CETUS (2%)
IDO Price: 1 CETUS = 0.04 SUI
Hard Cap: 800,000 SUI
Raised SUI Usage: 70% will be put into the CETUS-SUI as initial liquidity. The remaining 30% will be used as an xCETUS staking bonus in the first 3 months.
How to buy the CETUS token
At this point, users can buy CETUS at the Cetus Launchpad. In the future, users can acquire the token through CEX and DEX.
On May 10, 2023, CETUS will also be listed on CEX exchanges: KuCoin and OKX.
How to store the CETUS token 
The CETUS token has been built on two blockchains: Aptos and Sui. Users can keep their tokens at Coin98 Super App, Sui Wallet, OKX, Martian…
Roadmap and updates
Cetus does not mention the roadmap of the project. However, the protocol has milestones, as below:
2022: The Cetus Protocol was launched.
20/10/2022: Cetus is live on Aptos Mainnet.
16/11/2022: Cetus is live on the Sui Mainnet.
18/11/2022: Cetus Alpha on the Sui public testnet.
13/01/2023: Launch beta.
21/01/2023: Audit by OtterSec.
02/05/2023: Completed Seed Round Funding.
03/05/2023: Audit by Movebit
08/05/2023: IDO CETUS on Cetus Launchpad.
Team members
There is no information about Cetus's team.
Investors and Partners
Investors, Fundraising
Cetus has completed raising in the seed funding round, with the following information:
Date: May 2, 2023.
Amount: N/A
Valuation: N/A
List of investors: Kucoin Ventures, Coin98 Ventures, OKX Blockdream Ventures, Animoca Brands, Jump Crypto, NGC Ventures, Adverse, Comma3 Ventures, IDG Capital, AC Capital, and Leland Ventures.
Strategic Partners
Strategic partners of Cetus include:
Social: Crew3, ComingChat, Port3, StarryNift, Suia, Sui Name Service (SuiNS), Trantor…
Web3 wallet: Coin98 Super App, OKX wallet, Martian, Suiet, Ethos, Fewcha…
NFT & Marketplace: Clutchy, Souffl3, Sui Ape, Universal Basic Asset, Wizardland…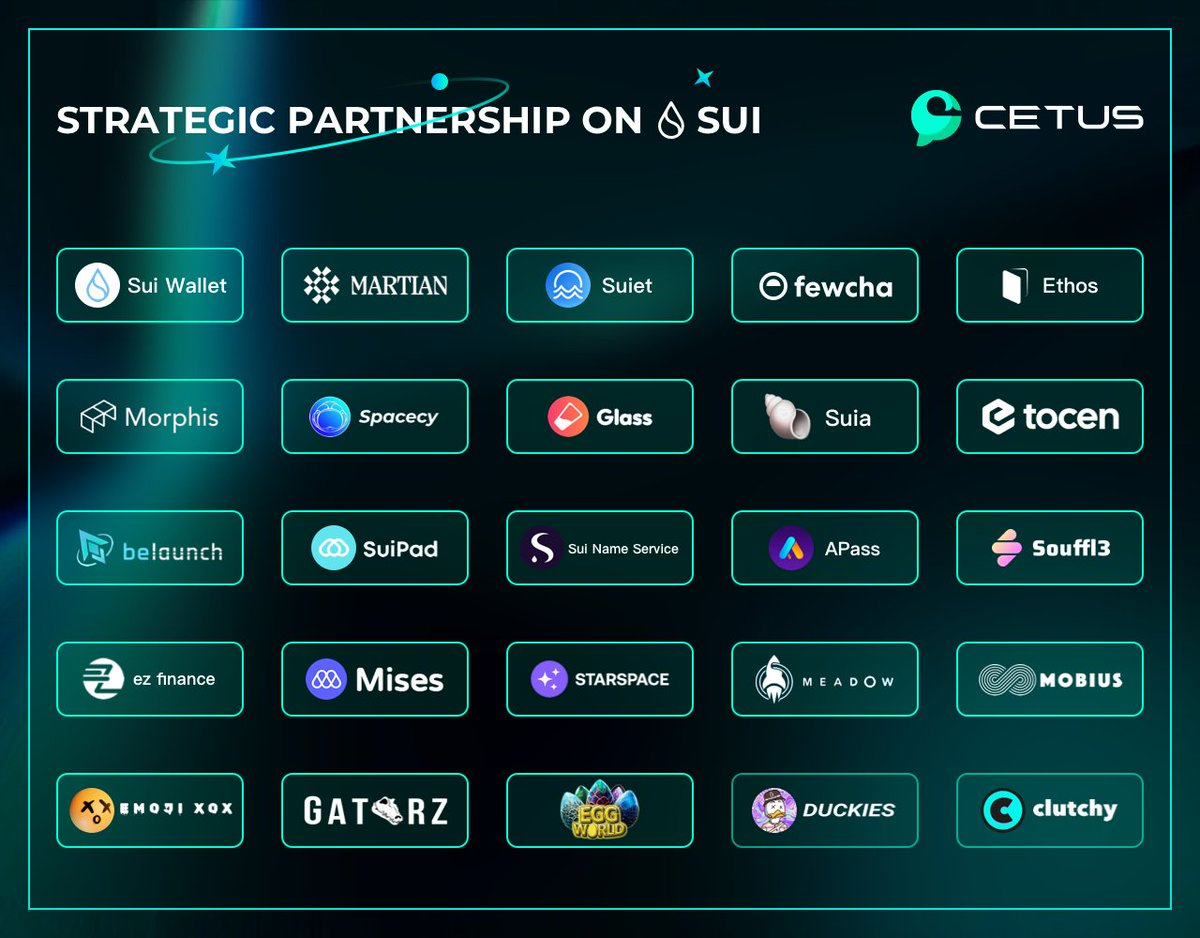 Similar projects
Similar projects that should be mentioned: Uniswap, Trader Joe, Suiswap, Turbos, OwlSwap…
If you have any questions regarding this topic, feel free to leave a comment below. We will answer your questions as soon as possible. See you in the next posts.
Last, Atccoin.net sent you details about the topic "What is the Cetus Protocol? Everything about CETUS Token❤️️".Hope with useful information that the article "What is the Cetus Protocol? Everything about CETUS Token" It will help readers to be more interested in "What is the Cetus Protocol? Everything about CETUS Token [ ❤️️❤️️ ]".
Posts "What is the Cetus Protocol? Everything about CETUS Token" posted by on 2023-09-29 07:46:17. Thank you for reading the article at www.atccoin.net